Blog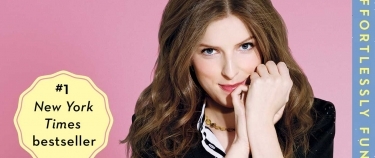 Audiobook Recommendations
by Scott Lenski on December 8, 2016
Tags: Adult (87), fiction (49), nonfiction (41), audiobook (7), memoir (6)
Do you have a long and looming card ride in your future? Help to pass the time by listening to an audiobook. We've got quite a few new titles to keep you tuned in during your drive.

Scrappy Little Nobody by Anna Kendrick
Request It
You may know Anna Kendrick from one of the many films she's been in including Pitch Perfect, Into the Woods or Up in the Air. She's also known for her wit and sarcasm (check out her Twitter page for a good chuckle). This audio is a collection of essays that recount her upbringing as well as her rise to fame. As a bonus the audio is read by the author.
Moonglow by Michael Chabon
Request It
Michael Chabon is one of America's current literary masters. He won a Pulitzer Prize for his novel The Amazing Adventures of Kavalier & Clay back in 2001. His newest novel concerns a man (whom isn't named) bearing witness to the death bed confessions of his grandfather. His writing is graceful and while every story isn't a home run, the collection as a whole is definitely worth listening to.
Thank You for Being Late: an Optimist's Guide to Thriving in the Age of Accelerations by Thomas L. Friedman
Request It
Are you dizzy from the pace of the world? Do you sense that we are at a tipping point? Friedman examines the acceleration of technology, market globalization, and environmental concerns including climate change. He argues that we should all take a deep breath and pause to admire this age of change and acceleration.
Today Will Be Different by Maria Semple
Request It
Semple began her career writing for TV comedies including Arrested Development and Mad About You. Her new novel is the story of Eleanor, a woman trying to make changes to improve her life. The story takes place over just one day, and you'll find yourself laughing out loud at the wisecracks found throughout as Eleanor's plans to be better are
---
Back to blogs