Blog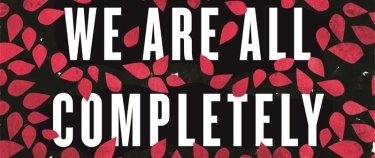 Book Club Favorites
by Karl Suechting on January 6, 2017
Tags: Adult (84), fiction (46), nonfiction (41), book club (13)
Over the past two years, I've led a book club discussion once a month and I thought it might be interesting to share some of my favorite titles that we've read. My selections included some nonfiction as well as fiction. All of the titles were published in the past five years, and only a few were bestsellers. So in no particular order, here are my favorites:
Orphan Train. By Christina Baker Kline.
Request It
This novel is historical fiction and recounts the story of an Irish Immigrant named Vivian, who as a child was taken from New York City on the so-called orphan train to live in the homes of various families in the Midwest. She struggles to find a family that will care for her and whom is not solely interested in using her for physical labor. Great for anyone who loves historical fiction.

Where'd you go, Bernadette? By Maria Semple.
Request It
This hilarious novel tells the story of Bernadette Fox, a Seattle housewife married to a Microsoft honcho. We learn as the story develops that Bernadette was a famous architect who had a breakdown at some point, which explains her disdain for the rest of the yuppie stay-at-home moms she is forced to interact with at her child's private school. When Bernadette disappears, it's up to her 15-year-old daughter to piece together the emails, secret letters, and other writings (which make up the narrative of this book) in order to find her mother.
We are all Completely Beside Ourselves. By Karen Joy Fowler.
Request It
In order to appreciate this book, one shouldn't really know anything about it, because to know anything about it would spoil it (there is a big reveal). To describe it generally it is a novel about a family dealing with grief over a lost child with a daughter who is forced to adapt to a completely unfamiliar world. I usually don't like novels that hinge on a big reveal, but this one was an exception.
Station Eleven by Emily St. John Mandel.
Request It
This is probably the best post-apocalyptic, dystopian book I've read in recent memory because it is more concerned with character development than others I've read. It follows Kristen, who is an actress with the Traveling Symphony, as they travel throughout what's left of the middle US. This novel describes in poetic language how the world has changed, and how the characters have come to find themselves in their current predicament.
Short nights of the Shadow Catcher : the epic life and immortal photographs of Edward Curtis. By Timothy Egan.
Request It
This book is a biography of American photographer Edward S. Curtis, who is best known for creating a 20 volume photographic and textual description of (supposedly) every American Indian tribe then in existence. This biography does a masterful job of describing Curtis' early life. It also shows the complexity of the tribes that Curtis came into contact with and his job in cataloging them, because they were on the verge of entering the modern world.
---
Back to blogs