Blog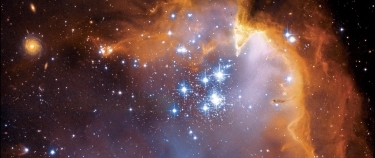 Discover Your Universe @ the Library
by Scott Lenski on January 26, 2017
Tags: Adult (84), nonfiction (41)
Our universe is full of mysteries and what better way to explore than in a book. Until space travel becomes commonplace, books may be the only way for us Earthlings to explore the starry skies.

Death by Black Hole: and Other Cosmic Quandaries by Neil deGrasse Tyson
Request It
Neil deGrasse Tyson has made a real name for himself as the current Director of the Hayden Planetarium at the Rose Center for Earth and Space in New York City. This is a collection of essays that first appeared in the pages of magazine Natural History. Tyson explores the past, present and future of the universe, discussing the Big Bang, black holes, planets, stars and supernovas. Tyson has a real talent for taking big concepts and making them easy to understand for the non-science person.

Cosmos by Carl Sagan
Request It
Although this book is over 35 years old, it is still one of the best and bestselling science books of all time. The scope covers not only astronomy, but also biology, sociology, philosophy and religion. Sagan examines the interconnectedness of the world around us and he does it with elegance. If you only ever read one science book in your life, this should be the one.

The Elegant Universe: Superstrings, Hidden Dimensions, and the Quest for the Ultimate Theory by Brian Greene
Request It
A complex but fascinating look at how the universe really works from one of the world's leading string theorists. The essence of the book explains both Einstein's Theory of Relativity and the Quantum Field Theory. These theories conflict with each other and string theory tries to reconcile these contradictions. This is a difficult subject for a layman to fully understand but Greene does his best to use simple language so that anyone will walk away having a better understanding of these concepts.

Seven Brief Lessons on Physics by Carlo Rovelli
Request It
Prefer to dip your toe into the universe and not be completely overwhelmed? This short book of 86 pages takes seven topics of modern physics and explains them in clear and concise language. Rovelli explores relativity, quantum mechanics, the universe and our place in it. Illustrations aid the author in making these topics even more digestible.

The Big Picture: On the Origins of Life, Meaning, and the Universe Itself by Sean Carroll
Request It
This new book blends together science, physics and philosophy to examine the big questions of "how do we know" and "what do we know." It is a very positive outlook that tells us that " It is up to us to make wise choices and shape the world to be a better place." These ideas of Carroll are called poetic naturalism, which encourages different ways of talking about the world even though these ideas can sometimes be in conflict with one another.
---
Back to blogs