Blog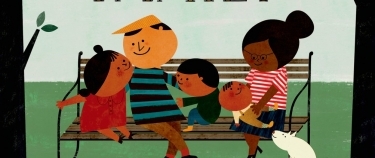 Everyday Diversity in Children's Picture Books
by Valerie Morris on January 19, 2017
Tags: kids (52), fiction (46), picture books (25), family (9)
In the world of children's picture books, there still exists a lack of diversity in the illustrations and themes available to children. Improvement has been made over the last few years due to increased awareness through organizations like We Need Diverse Books. It is vital for children of all colors and cultures to read books with multicultural faces and characters that reflect the world around us. While there are multicultural picture books that are written and illustrated to reflect a theme specific to a culture there is also a movement toward books with everyday diversity that depict diverse characters doing everyday activities. The most famous and earliest example of everyday diversity is the book The Snowy Day by Jack Ezra Keats. Here a few of my favorite everyday diversity picture books.
Say Hello! by Linda Davick (XP DAVI)
Request It
Brightly-colored illustrations show little ones the various ways to say hello to friends from a hug to a handshake to a curtsy.

Ten Little Fingers and Ten Little Toes by Mem Fox (XP FOX)
Request It
Babies love to look at other babies in books and this one is no exception with the babies playing, eating, and hiding. With its simple watercolor illustrations and rhyming, repetitive text this is sure to be a repeat read.

Little Bitty Friends by Elizabeth McPike (XP MCPI)
Request It
Can you go wrong with toddlers and little creatures? Here we have little ones observing and interacting with nature from caterpillars and snails to birds and turtles.

Lola Loves Stories by Anna McQuinn (XP MCQU)
Request It
Lola loves to visit the library with her daddy and the ensuing adventures she has pretending to be the characters from her library books.

Bee-bim Bop by Linda Sue Park (XP PARK)
Request It
This fast-paced book follows a Korean child and her mother preparing the family meal. We see them at the market and then at home with the child helping to flip, chop, and pour ingredients to help her mother in the kitchen.

Stella Brings the Family by Miriam B. Schiffer (XP SCHI)
Request It
Stella's class is having a mother's day celebration but Stella has two dads. Troubled by the decision of whom to bring to the class party, Stella's classmates help her to decide. Nice depiction of diverse children and families.

One Family by George Shannon (XP SHAN)
Request It
A delightful counting book depicting various families visiting the zoo, talking with neighbors, and playing in the home. Lots of fun details for little ones to find and talk about as you read.
---
Back to blogs