Blog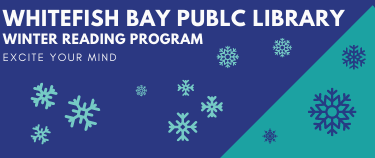 Excite Your Mind with the Winter Reading Program
by Scott Lenski on February 12, 2021
Tags: programs (7), reading program (1)
Excite Your Mind Winter Reading Program
February 1 - March 19
Looking to stay busy during these cold winter nights? Read and you could win prizes with our Excite Your Mind Winter Reading Program! This program is for any age (yes adults too) and is completed totally online using a tool called Beanstack. You can register online (https://wfblibrary.beanstack.com/) or you can also use the Beanstack app! Download the Beanstack app and search for Whitefish Bay Public Library

The program allows you to keep track of time spent reading. For kids and teens, log your reading online to earn badges, e-tickets for online drawings, and other fun prizes. Read whatever you want: chapter books, picture books, audio books, non-fiction, graphic novels, magazines... the sky is the limit! Also earn extra tickets for completing activities including playing outdoors, checking out our e-resources, and exploring more library services like book bundles and virtual storytime.

For adults, we're doing things a little different from our summer reading program. Instead of getting credit for each book you read, you'll get a e-ticket for each hour that you read. Use your tickets to enter into an online drawing for a gift card from some area businesses. Reading counts for any book, audiobook, ebook, newspaper, and magazine. Earn tickets for each hour of reading, up to 24 hours total. Also complete our activity badges to earn more tickets including check out an e-book, follow us on social media, sign up for our newsletter, and a stream a movie with movie streaming service Kanopy.

We've got something else new this year, a community reading goal. All time read will count towards our goal of 150,000 minutes read. As of today, we've still got 136,211 minutes to go! Help us to reach our goal! Sign up at: https://wfblibrary.beanstack.com/
Happy winter reading!
---
Back to blogs