Blog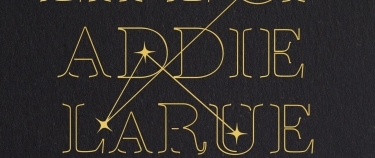 Invisible Life of Addie Larue
by Kayla Livingston on November 20, 2020
Tags: fantasy (5), magical realism (1)
"Never pray to the Gods that answer after dark."
You've likely heard about The Invisible life of Addie Larue by V.E. Schwab, it's receiving a lot of attention right now. The story starts in 1700s France, where we get a brief introduction to Adeline LaRue before we jump forward in time to 2014. The "chapters" jump between past and present and there are seven parts to this book with corresponding fictional artwork. As the story unfolds we begin to see how Addie has lived for 300 years, she made a bargain and like most bargains made with Gods there are consequences. Addie is forgotten by everyone she knows and everyone she is destined to meet but she is given the gift of immortality.
She can witness history unfold before her eyes and influences artists across the years so that in some ways she is not forgotten. The God, Luc, and Addie wage a war between themselves throughout the 300 years of Addie's new life but there are moments of peace between them. As her life and the story unfolds before us Addie meets another stranger only this time he remembers her.
Mortality and wanting more out of life are common themes in this book and if those are things you think about the book will definitely hit home for you. There is a slight repetition in dealing with Addie's curse, that got a little annoying at times but don't let it distract you from finishing this lovely novel. I savored the book for three weeks, wanting to know the ending and not wanting it to end. I'll leave you with a quote from the book that I'll never forget. There are many in the book but I feel as though this one sums up Addie in all her glory.
"She is at odds with everything, she does not fit, an insult to her sex, a stubborn child in a woman's form, her head bowed and arms wrapped tight around her drawing pad as if it were a door. And when she does look up, her gaze always goes to the edge of town.
'A dreamer,' scorns her mother.
'A dreamer,' mourns her father.
'A dreamer,' warns Estele.
Still, it does not seem such a bad word.
Until Adeline wakes up.
---
Back to blogs