Blog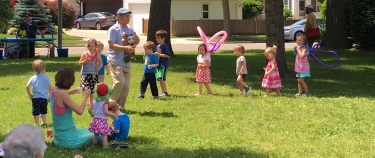 Programming Inspiration
by Katie Kiekhaefer on March 30, 2017
Tags: kids (48), programs (7)
While I wear many hats in my role as Head of Youth Services at the Whitefish Bay Public Library, my favorite hat to wear is my programming hat, and I'm lucky to have staff members who feel the same way. (Thanks Valerie, Anders, and Blake!) And, of course, we hope that you love programming too! Between storytimes and our special programs, last year we offered more than 250 programs for babies all the way up to teenagers. It's a lot of work, but we love the challenge of creating programming that excites and inspires our patrons.
With so many programs, the main challenge is coming up with fresh, exciting ideas. We have old favorites that we love to repeat (like junk art and engineering challenges), but my goal is to bring new ideas and activities that our kids and teens haven't experienced yet. How do we find our ideas? While we are inspired by what other libraries in the country are doing, we also look to less traditional resources for programming inspiration. Many of these resources are websites created by parents and educators, and our department then works to put our spin on them and also make them work for our larger groups. I thought you might like to see our favorite resources and be inspired to use these ideas at home!

Here are a few of our favorite websites:
The Artful Parent. https://artfulparent.com/
The Artful Parent is a champion for making art and creativity part of every child's day to day life, and we're often inspired by her use of simple materials and her focus on sensory crafts.
Left Brain, Craft Brain. http://leftbraincraftbrain.com/
We believe that art is integral to STEM programming, and Left Brain, Craft Brain is our go-to place to find program ideas. She splits up her posts into three categories: science for kids, engineering and tech for kids, and art for kids.
No Time for Flashcards. http://www.notimeforflashcards.com/
The creator of "No Time for Flashcards", Allison McDonald, is a former preschool teacher and preschool director, and her blog is filled with themed book lists, activities broken down by age group, and suggestions for learning stations and sensory crafts.
TinkerLab http://tinkerlab.com/
According to their "About" page, "At Tinkerlab, we love play dough, paint, glitter, mud pies, glue, experiments, curiosity, and self-expression." The WFB Public Library Youth Services department agrees, and we love this site for its process-focused crafts and wide range of age-appropriate activities. They also have a book titled Tinkerlab: A Hands-On Guide for Little Inventors, which is available at our library!
We have great programming planned for April and May, and before long it will be summer reading program. Our theme this year is "Build a Better World" and you can expect lots of programs revolving around using recyclable materials for our craft supplies, spreading kindness in the community, recognizing diversity, and encouraging scientific exploration. See you at the library!
---
Back to blogs