Blog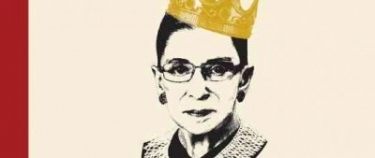 Ruth Bader Ginsburg
by Ina Margulis on October 2, 2018

Ruth Bader Ginsburg, Supreme Court Judge , mentor and role model for many women and young people is celebrating 25 years as a Supreme Court Justice. She is also the subject of an upcoming new film this fall called "On the Basis of Sex".
The film, featuring Felicity Jones as a young RBG, is based on a screenplay written by her nephew Daniel Stiepleman and is an intimate look at one of her first cases. This is the only case that she worked on with her husband Marty (played by Armie Hammer). It is a biographical drama and a glimpse at the difference one woman can make. Directed by Mimi Leder the film will come out in December2018.

While we wait for the film one could get acquainted with her life and work in another film, a documentary that came out also in 2018 named RBG , directed by Betsy West.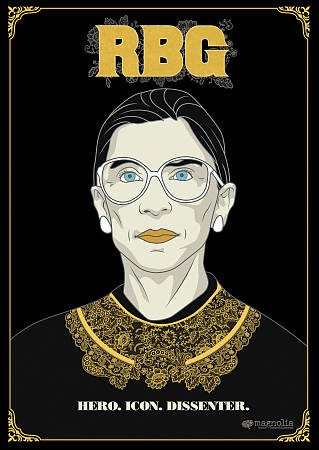 It is a very powerful movie about a powerful and inspiring woman. For those who do not know much about Ruth Bader Ginsberg, she has contributed so much to our system. Take 2 hours to enjoy learning why documentary films provide so much that we need to know about contemporary America. A real effort was made to find people who have known RBG at different points in her life, from her childhood in Brooklyn to the current day. Some of the movie is funny, which is a real plus, given that Ginsberg herself is not a particularly funny woman, nor is the law usually a laughing matter.
Some other book recommendations are :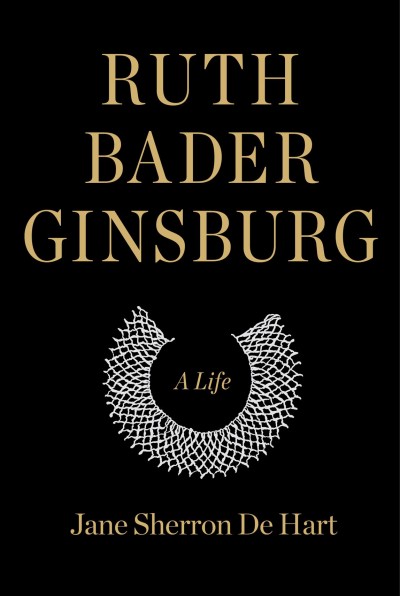 Ruth Bader Ginsburg : a life by Sherron de Hart 2018
Her is the first full biography on Ginsburg, the 107th Supreme Court Justice. One of the most important women of our time that took nearly 15 years to write, based on interviews from Ginsburg, as well as interviews with her family and friends.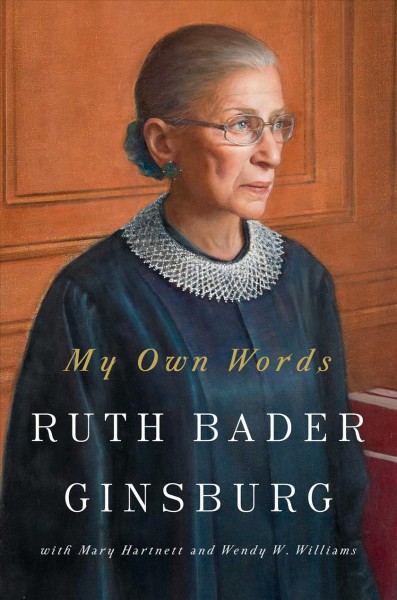 My own words by Ruth Bader Ginsburg, 2016
My Own Words is much more than a biography or a memoir. It is also a collection of lectures, writings, and Court decisions by one of only four female justices in the history of the United States Supreme Court.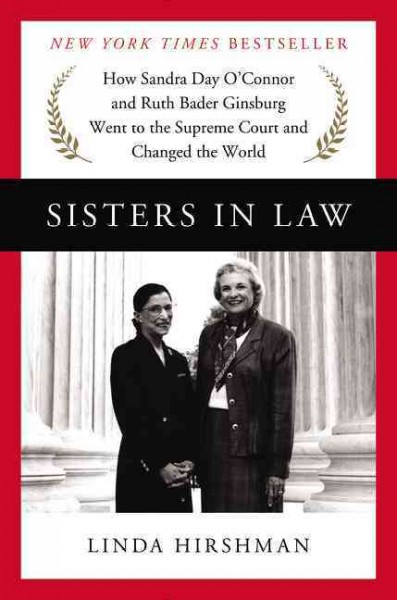 Sisters in Law by Linda Hirshman 2015
This is a stunning and insightful review of the careers of Sandra Day O'Connor and Ruth Bader Ginsburg. On the surface, the two are as different as chalk and cheese, Sandra a stalwart Westerner with little interest in real feminism other than the fact that she quietly fought her way up the ladder from a traditional country club wife and mother to a member of the court. She was recognized as the reliable swing vote in many cases, her legacy is more about being in the right place at the right time and not ticking off her fellow justices. Ginsburg, on the other hand, has built her career on rocking the boat and, in so doing, has become a mythic figure to young people and especially young feminists. The tiny, fragile looking justice, an upper East Side liberal to her core, speaks for the underdog, unfailingly and has, in this Conservative court has become the reliable voice of dissent.
Notorious RBG by Irin Carmon 2015
This biography of RBG is as much about US feminist legal history as it is about the justice's life. In addition to the various legal decisions she influenced as an ACLU attorney and eventually as circuit court judge and Supreme Court Justice, one learns some important principles about women's rights. One pearl from RBG that inspired me to step up my own parenting game: "Women will only have true equality when men share with them the responsibility for bringing up the next generation."
For the Younger generation some new titles are :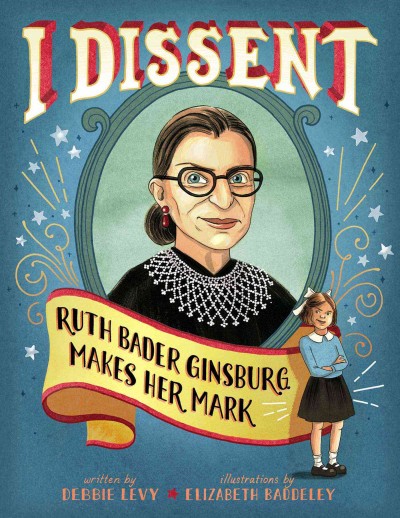 I dissent :RBG makes her mark by Debbie Levy 2016
Lots of information, but engagingly and accessibly told. Even more in the appendices, including photos. A good introduction for kids, and definitely a worthy read for any young non-fiction fan. I especially liked that the book pointed out how prejudices and limits affect all, not just those directly targeted.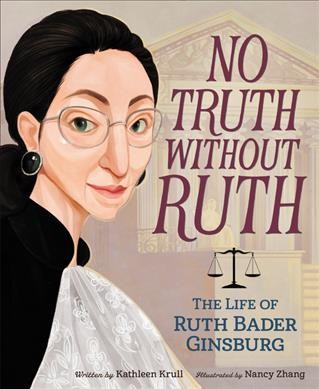 No truth without Ruth by Kathleen Krull 2018
Another wonderful biography carefully crafted by Kathleen Krull. She describes RBG's life, step by step, in ways that the reader can appreciate and understand. Nice features such as a timeline are at the back of the book for young students who might be using this for research.
---
Back to blogs