Blog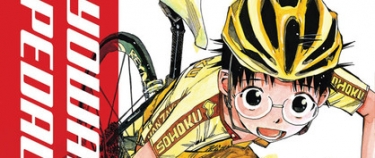 Sports Manga
on June 1, 2017
Tags: teens (14), manga (6), sports (1)
This post was written by Anders A., Youth Services intern.

It's the end of May and summer is finally in the air—the perfect time to get up and move and go outside. Or how about staying inside and reading some manga? Sports manga is hugely popular in Japan and we're seeing a steady trickle of great sports titles over here as well. With baseball season underway and exciting sporting events like the Tour de France later this summer, get inspired by these great titles. You'll find the first three series in the Young Adult Graphic Novel Collection and the last two in the Childrens' Graphic Novel Collection

Yowamushi Pedal by Wataru Watanabe (Y GRAPHIC WATA)
Sakamichi Onoda regularly treks 90 miles through the mountains on his "mommy bike" to Akihabara, a Tokyo shopping district dedicated to manga, anime, and video games. Having gone to such great lengths to acquire pop culture paraphernalia, he has unwittingly become a cycling powerhouse. He gets the attention of the local cycling club when he outpaces one of their shining stars on his way home from a shopping trip. Check out this funny and exciting series this summer—just in time for Tour de France.

Haikyū!! by Haruichi Furadate (Y GRAPHIC FURA)
Inspired by his childhood hero, "the Little Giant," and despite his short stature, Shoyo Hinata is determined to become the greatest volleyball player ever! A bitter rivalry is born when Shoyo is defeated in his very first match against Tobio "King of the Court" Kageyama in middle school, and the situation isn't exactly improved by the fact that they end up on the same volleyball team in high school. You don't want to miss this fun and action packed series.

Eyeshield 21 by Riichiro Inagaki and Yusuke Murata (Y GRAPHIC INAG)
Sena Kobayakawa has spent his life outrunning bullies, and his speed quickly catches the attention of the demonic captain of the high school football team. Sena is quickly drafted to the team and gains the nickname "Eyeshield 21" based on his jersey number and the faceplate used to disguise his identity. Come for the football action, stay for the slapstick comedy.

Ninja Baseball Kyuma! by Shunshin Maeda (X GRAPHIC MAED)
In this three-part series for younger readers, mountain dwelling ninja boy Kyuma is discovered by the captain of a local baseball team and quickly becomes their star player. While the other members of the team think Kyuma simply likes to pretend he is a ninja, Kyuma himself believes baseball is a new type of battle technique. Will Kyuma be able to trade his sword for a baseball bat?

Fantasy Sports by Sam Bosma (X GRAPHIC BOSM)
While technically not manga, this excellent graphic novel series deserves an honorable mention. As members of the Order of Mages, Wiz and Mug must travel to ancient castles and dungeons in search of treasure to fill the Order's coffers. In the first volume, the duo square off against an ancient mummy in a high-stakes game of basketball, and in the second volume, they face a duo of water spirits in an intense game of volleyball. Drawn in bold lines with a muted yet rich color palette, Fantasy Sports is a series that will appeal to both sports fans and fantasy aficionados.
---
Back to blogs