Take and Tinker Collection
Excite your mind, try out a new hobby, learn a new skill, or just have fun with our new Take and Tinker collection! A collection of tools, games, and other items that you wouldn't expect to find in a library! Take and Tinker is generously funded by Friends of the Whitefish Bay Public Library! Help them out by becoming a Friend!

Browse the collection and reserve an item with your library card! Items have a 7-day checkout (with a 3-day grace) and can be renewed up to 2 times if no one is waiting. Late fees are $.50 per day. Items can only be picked up at Whitefish Bay Public Library. Items must be picked up AND returned to the Adult Services Desk. DO NOT place items in the bookdrop.

Check out the different items in Take and Tinker. Check out our Board Games as well as our Board Games for Families and Younger Children. Place a hold on items through CountyCat:

Technology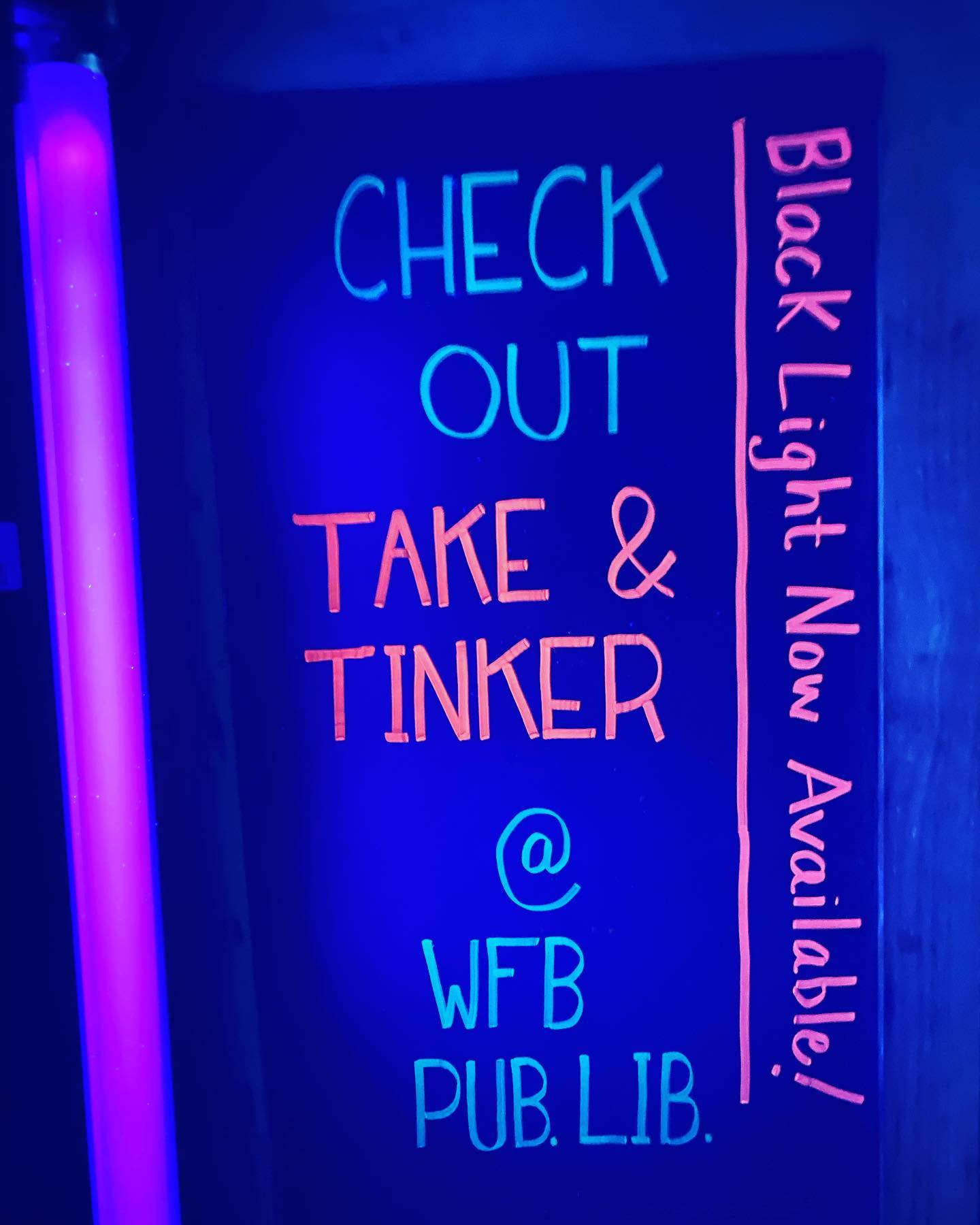 Black Light : black-24 inch bulb
Make neon colors glow! Fun for all types of parties, festivals, Halloween decor and more.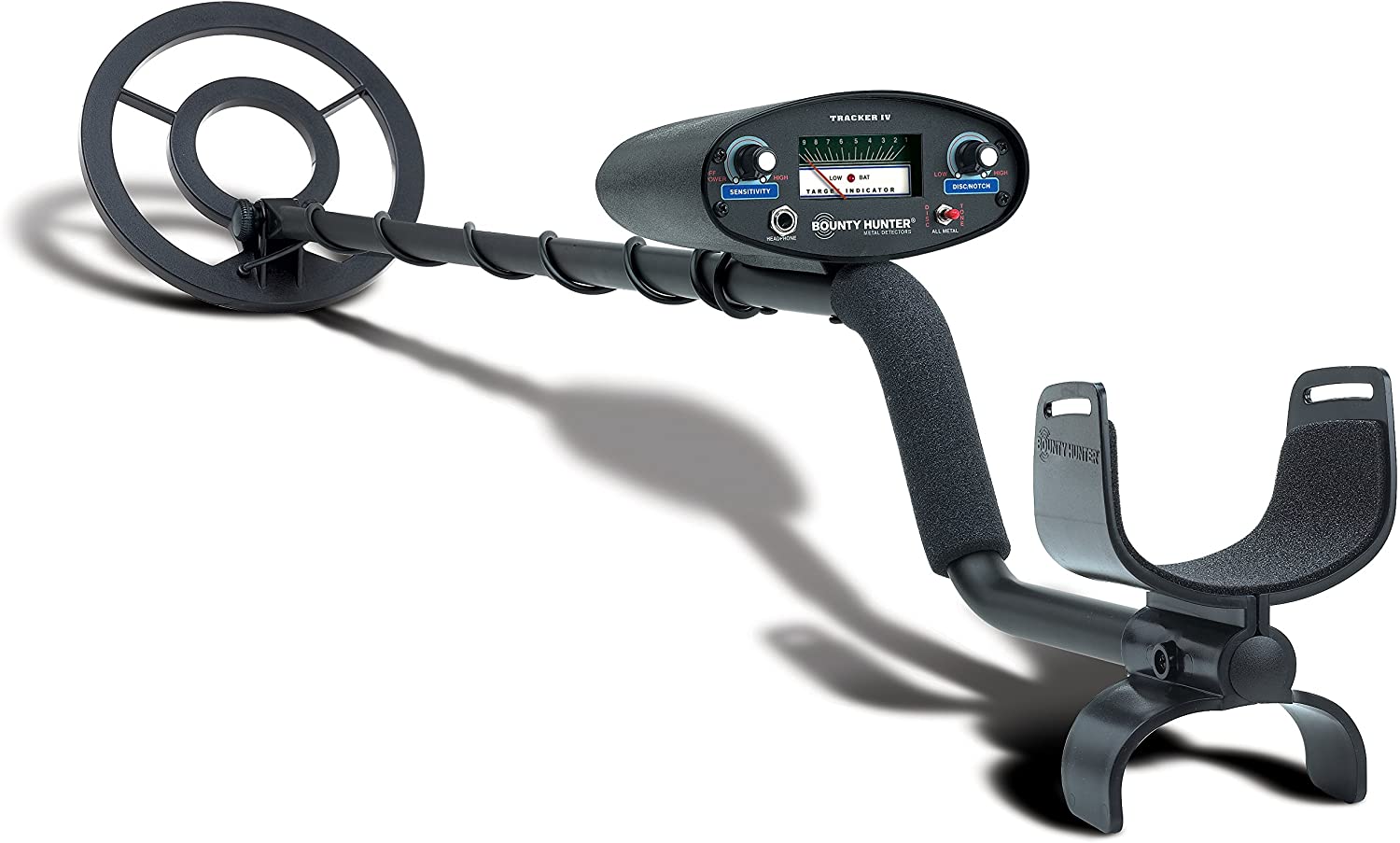 Bounty Hunter TK4 Tracker IV Metal Detector- Detects coin-size targets up to 6 inches deep; larger targets up to 2 feet. Detects the presence of all metals including gold, silver, brass, aluminum, iron and steel.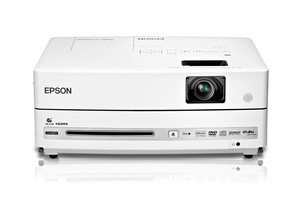 Epson Projector/DVD player combo - Have an outdoor movie night with this combo portable projector/DVD player and built in speakers. Also includes an HDMI cord and hookup to a laptop for Powerpoint presentations.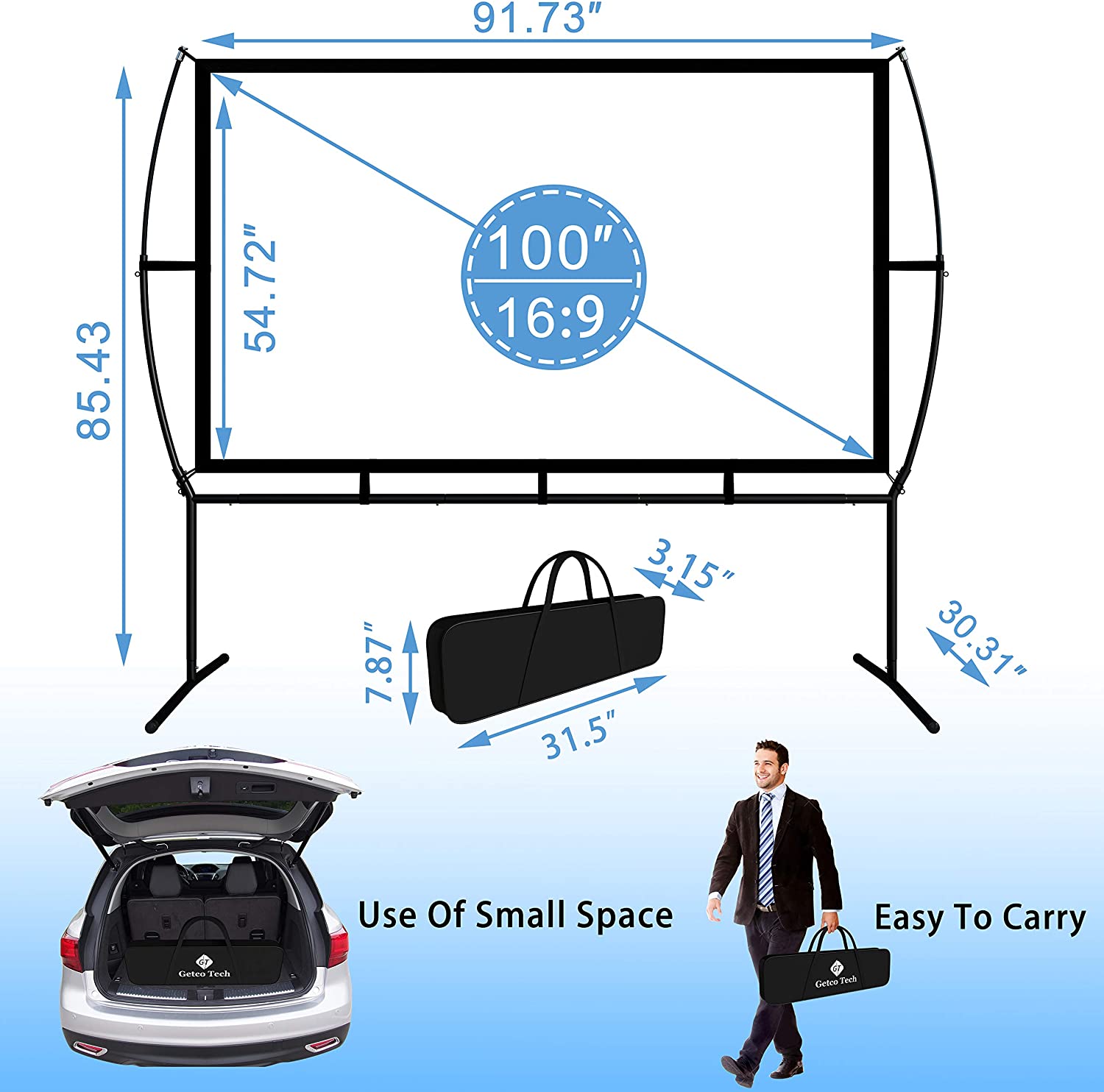 Portable Projector Screen- 100 inch Portable projection screen, 16:9 format,160° Wide Viewing Angle.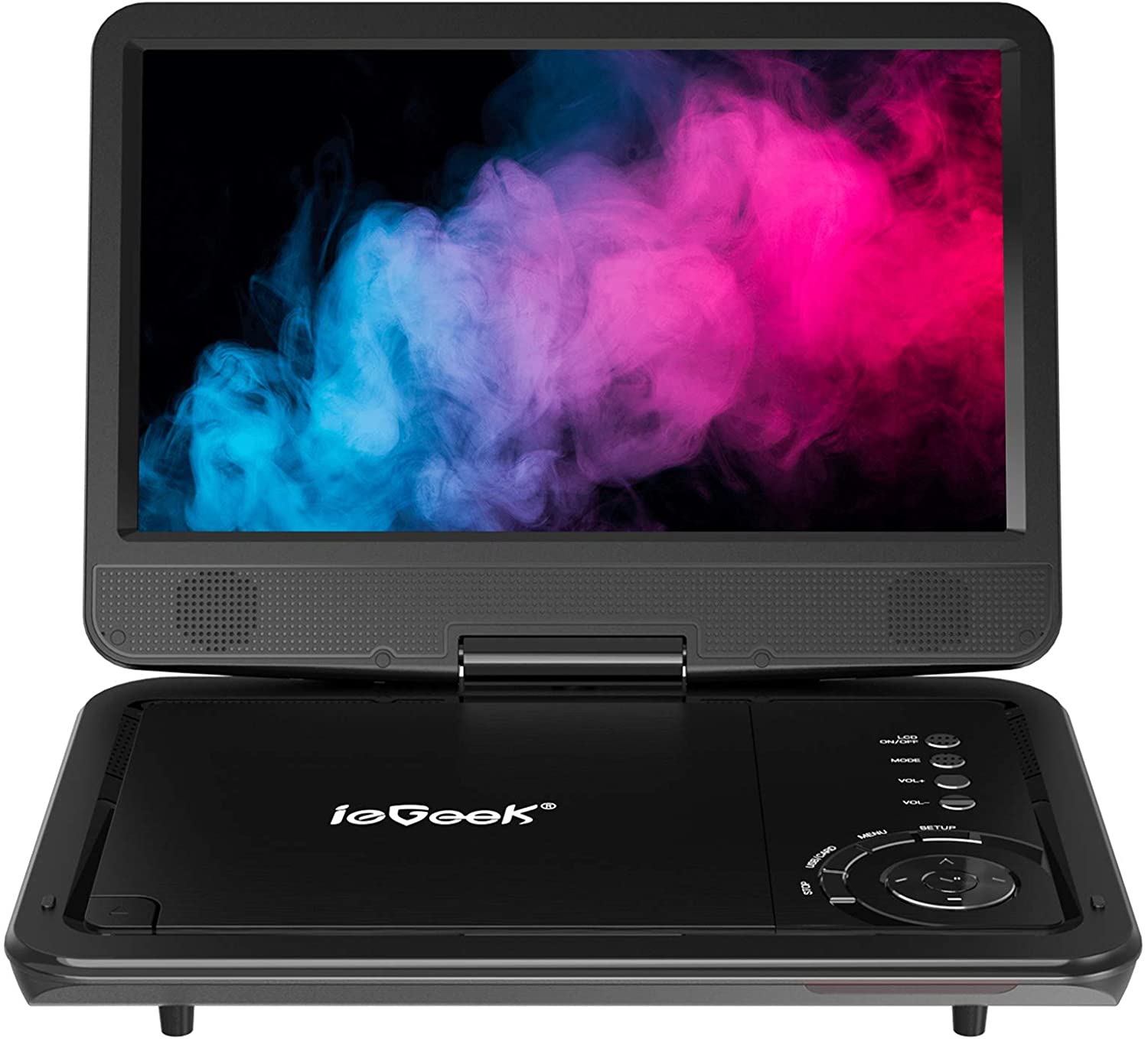 Portable DVD Player - 10.1" inch HD swivel screen travel DVD player with 5 hours on a charge. Play DVD, or connect a USB or SD card to enjoy your favorite movies and music .
---
Crafting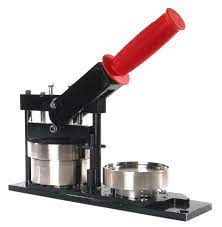 1 Inch Promaker Button Machine- Includes button maker, a hole punch (aka graphic punch) along with enough pieces to make 10 buttons. We also sell kits of extra button parts, 10 buttons for $1.
1.75 Inch Promaker Button Machine - Includes button maker, a hole punch (aka graphic punch) along with enough pieces to make 10 buttons. We also sell kits of extra button parts, 10 buttons for $1.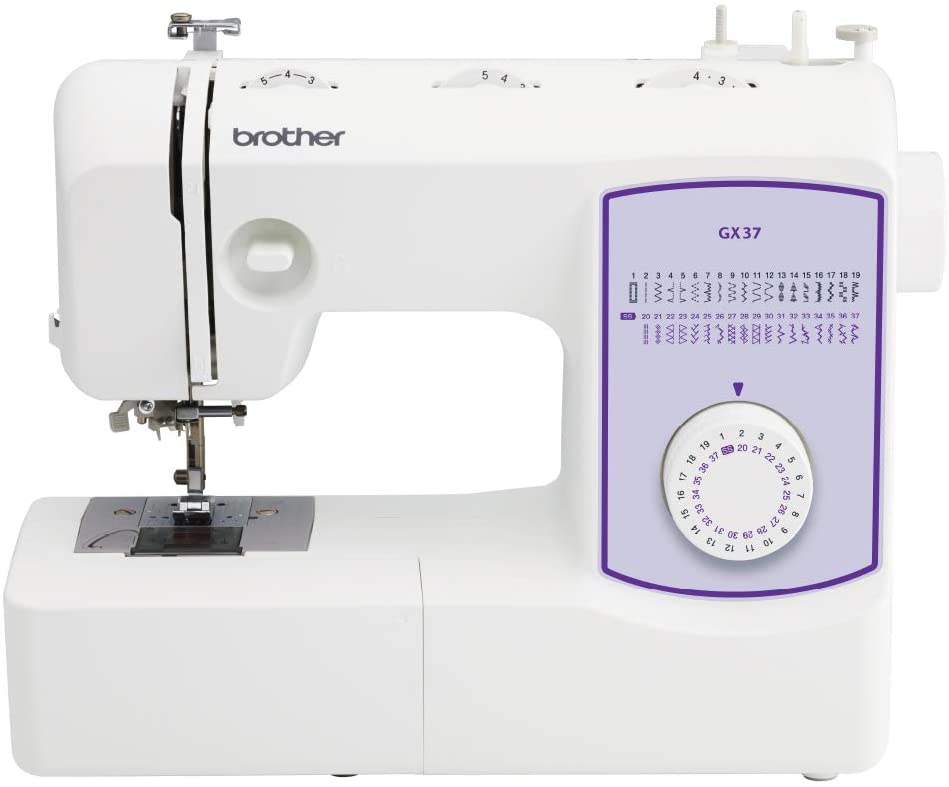 Brother Sewing Machine- The GX37 features 37 unique, built-in stitches and an auto-size buttonhole.This sewing machine includes an automatic needle threader that perfectly pushes the thread through the needle and a convenient, jam resistant drop-in top bobbin.

Cricut Explore Air 2- The Circuit Explore Air 2 is your personal DIY cutting machine. It will flawlessly cut over 100 plus different types of materials including premium vinyl, iron on and htv vinyl, cardstock, faux leather, adhesive foils, specialty paper, poster board and more.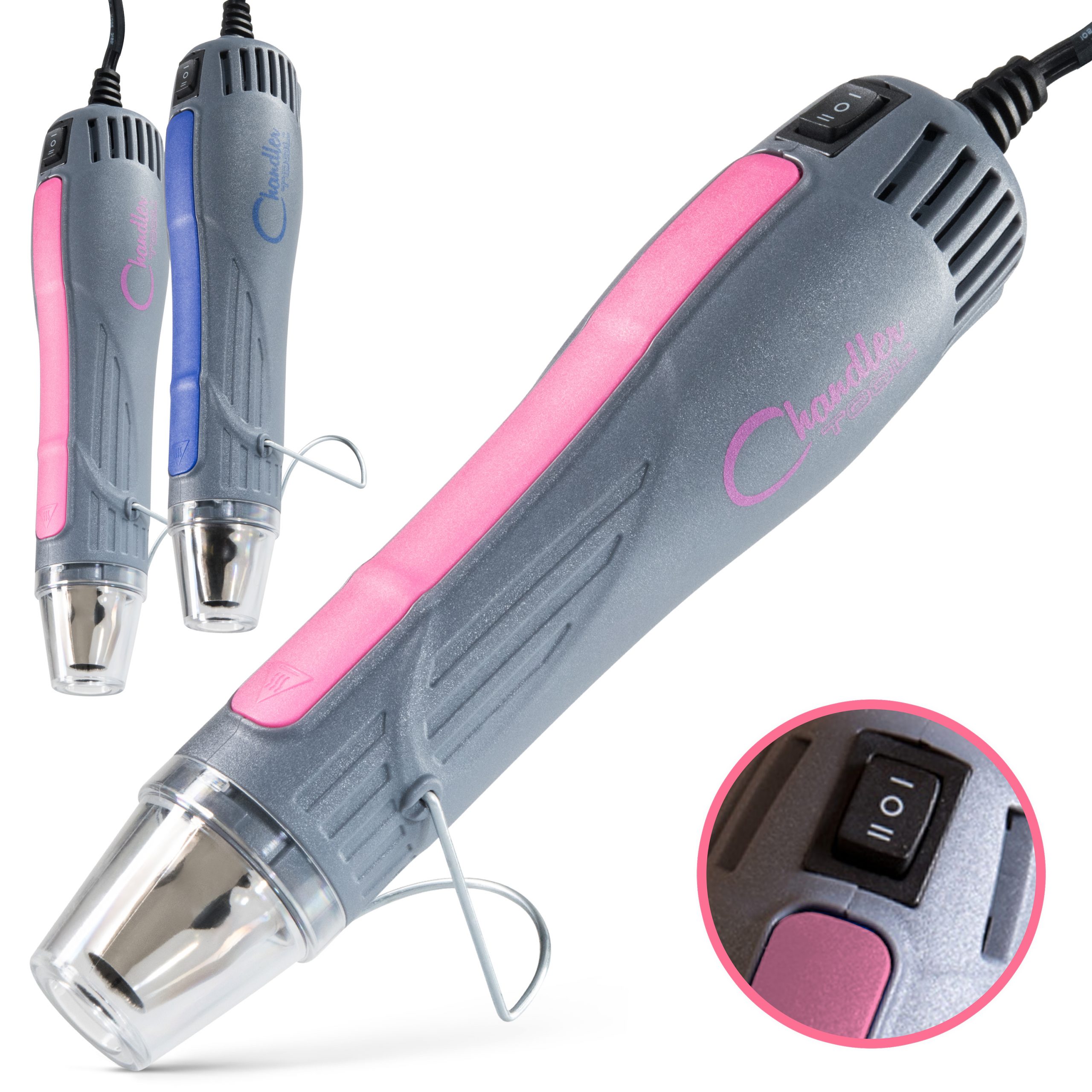 Dual Temperature Heat Gun - 350 Watt embossing heat gun used for projects such as embossing, shrink wrap, paint & lacquer drying & paint removal. Two temperature settings: High heat: 300ºC/572ºF ; low heat: 200ºC/392ºF ; UL® safety certified for North American use.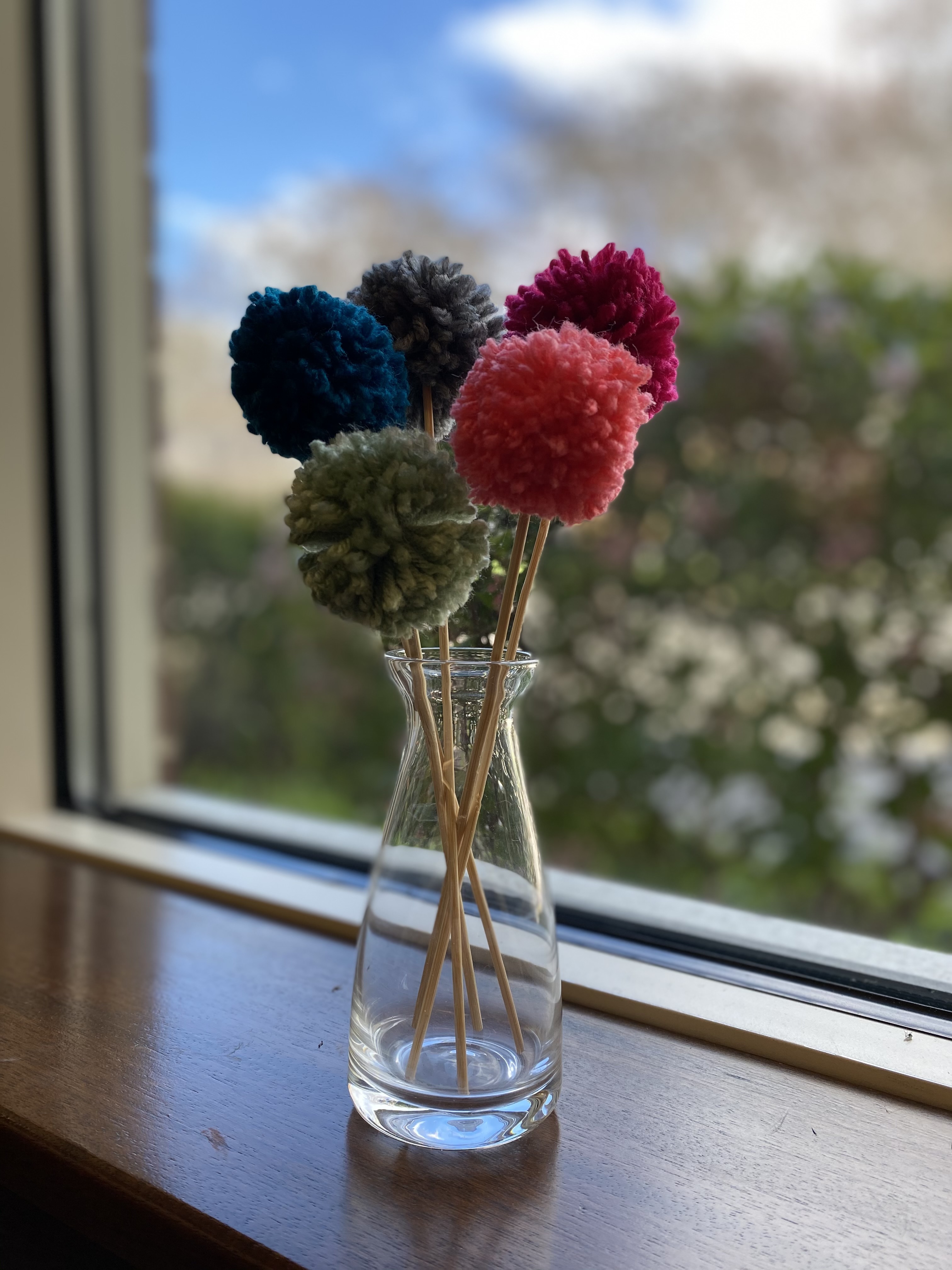 Pom-Pom Maker - Includes 2 pom-pom makers that make pom-poms in these dimensions: 2.5 inch and 3.5 inch. Make pom-poms for a gift or decoration. Yarn not included.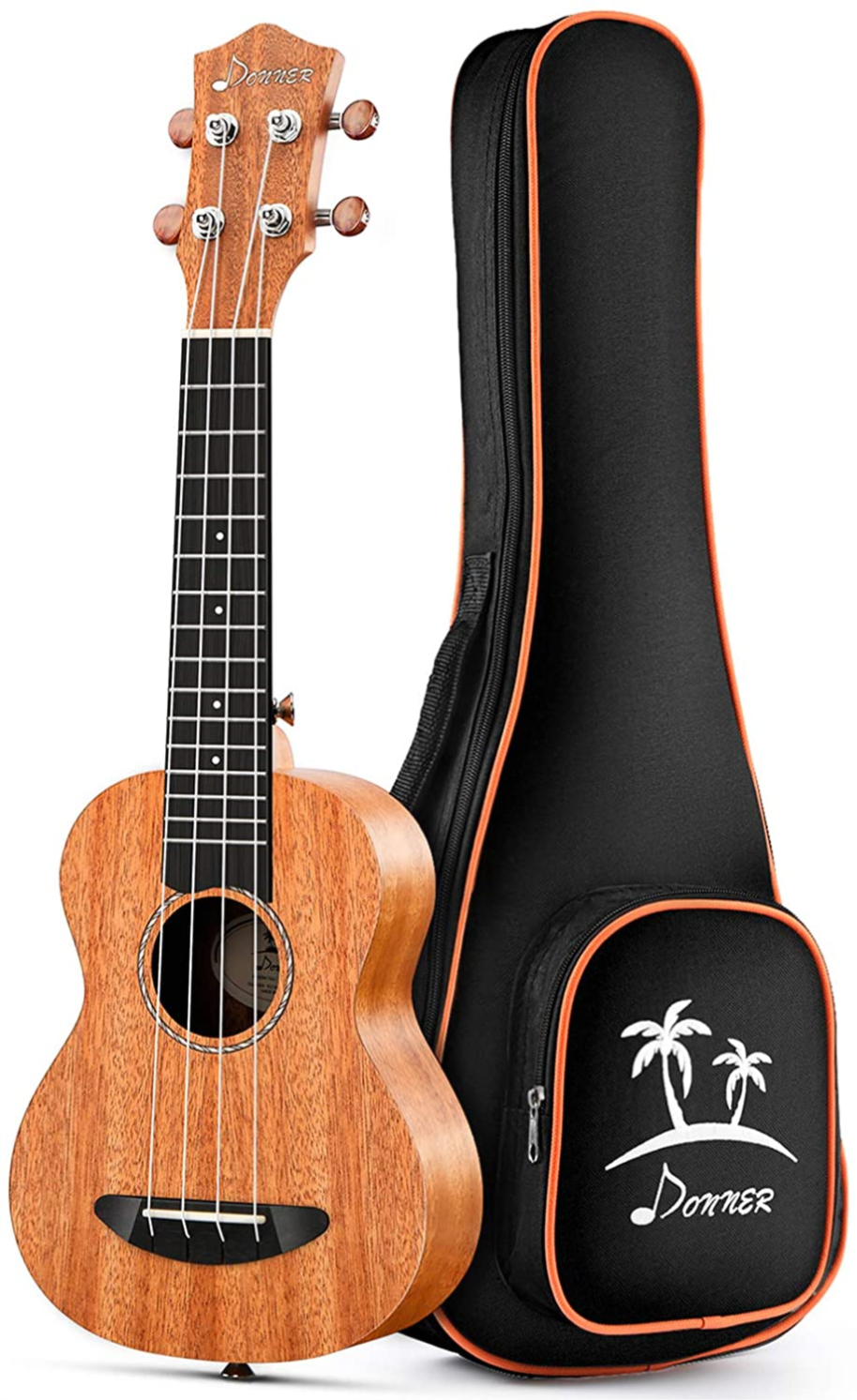 Ukulele Beginner Kit - 21 inch Mahogany Ukulele. Portable and easy to learn! Includes a digital tuner, carrying case, and 2 picks.
---

Yard Games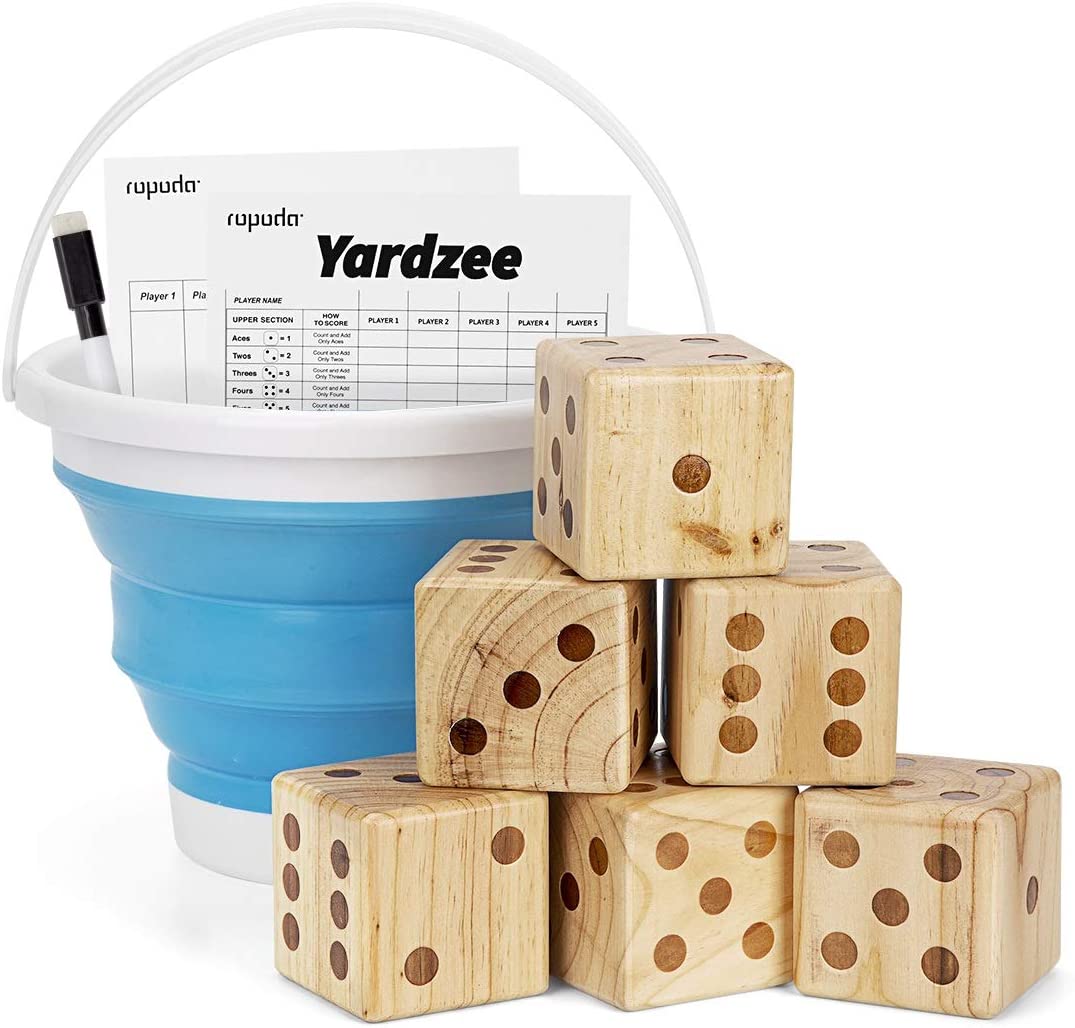 Yard Dice Game Set- Giant dice for outdoor/indoor use. Includes 6 large wooden dice, plastic bucket, instructions, and score card. Play Yahtzee, Farkle, or other dice games.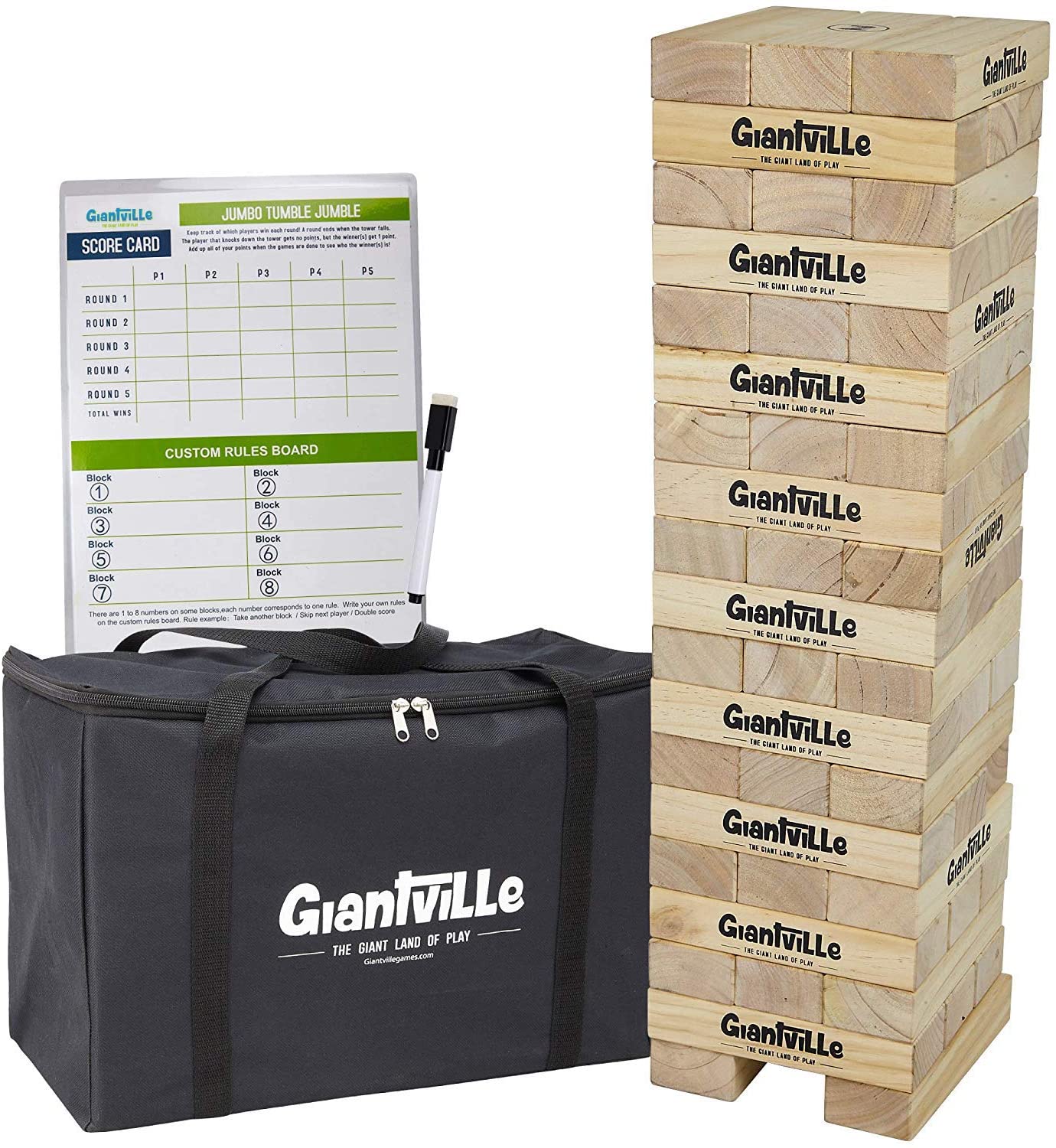 Wooden Block Game Set- Giant Jenga - OUTDOOR & INDOOR USE: Take the fun from the house to the lawn. This classic game is perfect for outdoor and indoor events like birthdays, BBQs, picnics, camping, and so much more!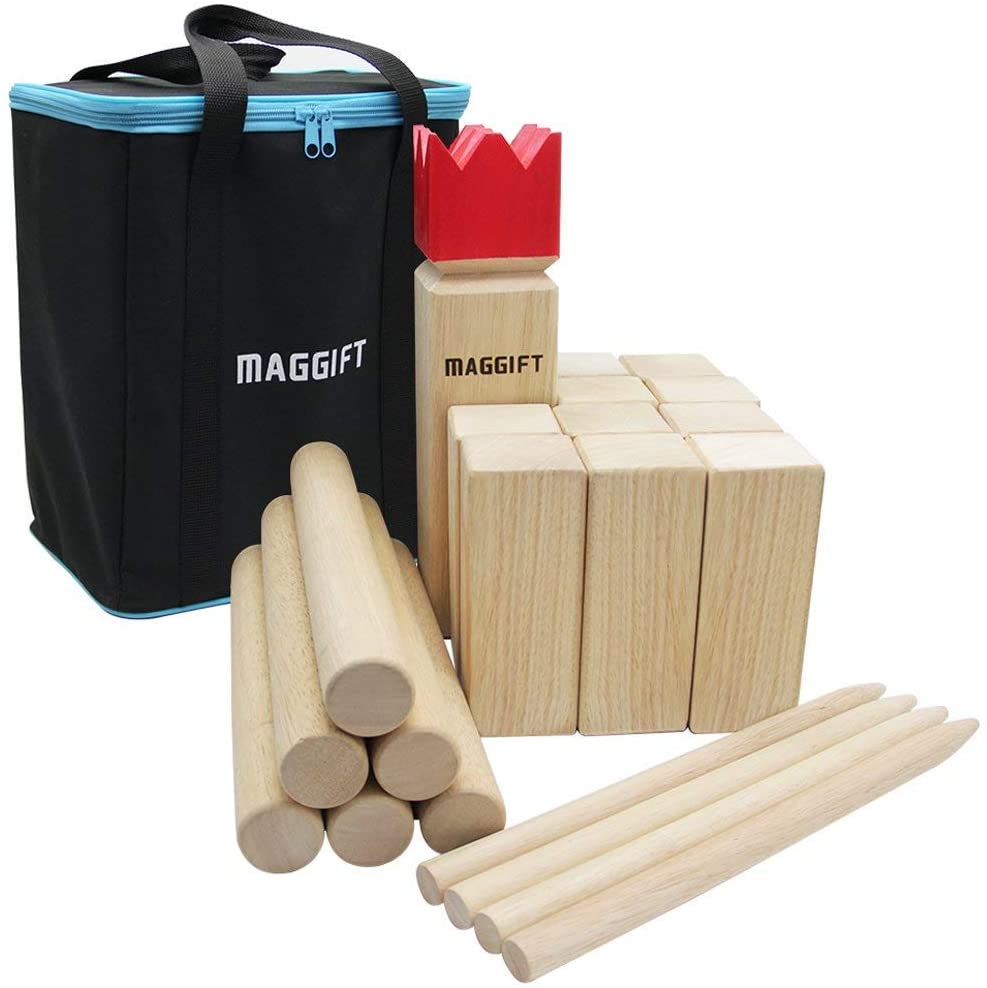 Kubb Game- Kubb Game Set can be played with anywhere from 2 to 12 players. It is a Swedish yard game that is a cross between bowling and horseshoes. The object of the game is to knock the "King" over before the opposing team does.Teams must use wooden tossing dowels to successively knock over the opponents Kubbs. After all of the opposing team's Kubbs have been eliminated, the team can then attempt to knock down the King and win the game.
---
Board Games

Apples to Apples- Player selects the card from his hand that seems best described by a card played by the judge. If the judge picks his card, he wins that round. Everyone gets a chance to be the judge. Each round is filled with surprising comparisons from a wide range of people, places, things and events.
4 to 8 players, Ages 12 and up

Azul- Players compete as artisans decorating the walls of the royal Palace of Dvora. By carefully drafting the correct Quantity and style of tiles, the most clever of artisans plan ahead to maximize the beauty of their work (not to mention their scores!) while ensuring they wasted no supplies in the process
2 to 4 players, 30-45 minutes of play, Ages 8 and up

Cards Against Humanity: Family Edition- It's not just the regular game with all the adult stuff taken out. We rewrote the whole thing and playtested it with thousands of families. Includes 600 cards packed with groundbreaking toilet humor, such as "Filling my butt with spaghetti" and "A cloud that rains diarrhea."
3 to 8 players, Ages 8 and up

Catan: Trade, Build, Settle- Your adventurous settlers seek to tame the remote but rich isle of Catan. Start by revealing Catan's many harbors and regions: pastures, fields, mountains, hills, forests, and desert. The random mix creates a different board virtually every game. No two games are the same! Embark on a quest to settle the isle of Catan.
3 to 4 players, 1 hour of play, Ages 10 and up

Dixit- Dixit is an exciting game of storytelling through imagination and clues. The 84 artistically designed cards tell a different story for every individual and put creativity to the test!
3 to 6 players, 30 minutes of play, Ages 8 and up

Dominion- Players compete with each other to assemble larger domains. The player with the most victory points at game end wins.
2 to 4 players, 30 minutes of play, Ages 14 and up

Exploding Kittens- Players draw cards until someone draws an exploding kitten, at which point they explode, they are dead, and they are out of the game -- unless that players has a defuse card, which can defuse the kitten using things like laser pointers, belly rubs, and catnip sandwiches. All of the other cards in the deck are used to move, mitigate, or avoid the exploding kittens.
2 to 5 players, 15 minutes of play, Ages 7 and up

Forbidden Island- Forbidden Island : secluded retreat of the ancient empire of the Archeans, and hiding place of the Archeans' four treasures. Your team of adventurers must work together to keep Forbidden Island from sinking in order to have time to capture those treasures.
2 to 4 players, 30 minutes of play, Ages 10 and up

Gloom: the Game of Inauspicious Incidents & Grave Consequences- Players assume control of the fate of an eccentric family of misfits and misanthropes. The goal of the game is for players' characters to suffer the greatest tragedies possible before dying. Game ends when an entire family is eliminated. Players total Pathos points on each character's Character cards, adding to get total Family Value ; player with lowest total Family Value wins.
2 to 4 players, 60 minutes of play, Ages 13 and up

Killer Bunnies and the Quest for the Magic Carrot- A fast paced, action filled card game, in which you must try to keep as many bunnies alive as possible while eliminating your opponents' bunnies.
2 to 8 players, 45 minutes of play, Ages 13 and up

King of Tokyo
Play a GigaMonster on a rampage, destroying everything in his way! Roll the dice to get the best combinations to heal yourself, to attack, to buy special cards, or to gain Victory Points. It's up to you to choose the best tactic so you can become King of Tokyo just in time to get rid of all your opponents in one devastating attack.
2 to 6 players, 30 minutes of play, Ages 8 and up

Mysterium- In this asymmetric cooperative game, one player adopts the role of the ghost and the others play as psychics. All players share the same goal of shedding light on the strange circumstances surrounding the ghost's death and laying his spirit to rest at last. Unable to speak, the ghost attempts to communicate by sending visions to the gathered psychics, who will be ble to reconstruct the events of the fateful evening by correctly interpreting these ethereal messages. Cooperation and inspired guesswork will facilitate their task of unmasking the culprit.
2 to 7 players, 45 minutes of play, Ages 10 and up

Munchkin: Kill the Monsters, Steal the Treasure, Stab Your Buddy- Munchkin is a simple, card-based game chock full o' silliness.
3 to 6 players, 1-2 hours to play, Ages 10 and up

No Stress Chess- No stress action cards help the player learn correct moves for each chess piece. Two-sided board shows where to place the pieces to start and the flip side is played without the action cards & you play chess unaided.
2 players, Ages 7 and up

Pandemic- In this game, players collaborate as members of a disease-fighting team combating four deadly diseases. The team travels around the world to stop the infection and develop resources for the cures. Players win by discovering cures for the four diseases, but lose if they do cannot do so fast enough or if they fail to effectively keep the number of infections in check.
2 to 4 players, 45 minutes of play, Ages 8 and up

Photosynthesis- Players use light points to take their trees through their life cycles, from seedlings to fully grown. Then players collect scoring tokens with points proportional to the richness of the soil on which the trees grow.
2 to 4 players, 45 - 60 minutes of play, Ages 8 and up

Risk!- A board game of military strategy where players lead their armies as they sweep across continents to launch attacks against other players.
2 to 6 players, 2 hours of play, Ages 8 and up

Rush Hour: Traffic Jam Logic Game- Shift blocking cars and trucks out of your way to clear a path to the exit. 40 brainteaser challenges build problem solving skills.
1 player, Ages 8 and up

Scattergories- Right off the top of your head...can you name a sport, an ice cream flavor, and something in a pet shop, all beginning with the letter B? The trick is to take on 12 categories in 3 minutes or less and not match anyone else's answers! So be creative and seek the unique. Bungee jumping may score better than baseball, boysenberry better than black cherry. With more than 190 categories and 20 letters on the die, no game is ever the same. For crowd-pleasing, fast-thinking fun, the choice is Scattergories!
2 to 6 players, 30 minutes of play, Ages 12 and up

Sushi Go!- Pass the sushi! In this fast-playing card game, the goal is to grab the best combination of sushi dishes as they whiz by.
2 to 5 players, 15 minutes of play, Ages 8 and up

Takenoko- You must cultivate plots of land using irrigation and intelligence so that bamboo, the only food that the Panda will eat, grows in abundance. But beware of the sacred animal's uncontrollable appetite for crunchy young sprouts.
2 to 4 players, 45 minutes of play, Ages 8 and up

Ticket to Ride- Players attempt to gain the most points through claiming routes and completing paths of routes through North America.
2 to 5 players, 30 - 60 minutes of play, Ages 8 and up

Tokaido- The players are travelers in Japan in days of old. They will follow the prestigious Tokaido and try to make this journey as rich an experience as possible.
2 to 5 players, 45 minutes of play, Ages 8 and up

Trekking the National Parks- Family board game where players visit America's national parks. Players compete for points by visiting national parks, claiming park cards and collecting bonus stones.
2 to 5 players, 30 - 60 minutes of play, Ages 10 and up

Wordplay- Players score points by thinking of words from different categories that contain given letters.
2 to 6 players, Ages 14 and up
---
Board Game for Families and Younger Children

Animal Upon Animal (Tier auf tier)- Classic Wooden Stacking- Players race each other to be the first to place all of their wooden animals upon the animal pile before any of the other players.
2-4 players, Ages 4 and up

Candy Land- Players encounter all kinds of "delicious" surprises as they move their cute gingerbread man pawn around the path in a race to the castle.
2-4 players, Ages 3 and up

Chutes and Ladders- 'Chutes and Ladders' is simple and easy to play, with no reading required. Be First to land on the 100 spot and win the game.
2-4 players, Ages 4 and up

Clue Detective Game- You're on the case in the ultimate game of who, what, where! You've got suspects, locations, and weapons, now it's up to you to ID the murderer and solve the mystery!
3-6 players, Ages 8 and up

Connect Four- Game begins, both sides alternately place their pieces in turns. When someone gets 4 discs in a row first, then they win.
2 players, Ages 3 and up

Dominoes- The classic family fun game to help with math, colors and matching.
1 or more players, Ages 4 and up

Feed the Wozzle- The Woozle loves to eat hairy pickles and fuzzy donuts. Can you help feed him 12 crazy treats before all the snacks are gone? A monstrous game of mixed up fun!
2-5 players, Ages 3 and up

Gnomes at Night: Dare to Enter the Maze- Gnomes at Night is a cooperative search-and-find maze game where players work as a team to maneuver the magnetic gnome movers around the maze. Work together in this quick-thinking communication game where every second counts!
2-4 players, 15 minutes of play, Ages 6 and up

Hoot Owl Hoot!- In this color coordinated matching game, players cooperate to help the owls fly back to their nest before the sun comes up. Help all the owls home before sunrise and everyone wins!
2-4 players, Ages 4 and up

Mancala- Invented thousands of years ago, Mancala is one of the world's favorite games of counting and strategy.
2 players, Ages 6 and up

Monza Car Racing- A clever but simple children's game that combines color recognition and "thinking ahead" skills. It plays in just 5-10 minutes and takes its name from the Italian city known for its Formula One Grand Prix racing circuit.
2-6 players, Ages 5 and up

Outfoxed: a Cooperative Whodunit Game
"Mrs. Plumpert's prized pot pie has gone missing and it's now a chicken chase to crack the case! Move around the board to gather clues and then use the special evidence scanner to rule out suspects.
2-4 players, Ages 5 and up

Orchard- The four fruit-trees are full of fruit. The apples, pears, cherries and plums are ripe and have to be picked quickly, because the crafty raven is eager to pinch some tidbits.
1-8 players, Ages 3 and up

Tea Party Spinner- Spread the real fabric tablecloth, ready the teapot spinner and spin to choose for tea, sandwiches, fruits, desserts, cream and sugar, napkins and utensils.
2-4 players, Ages 3 and up