Our Events · Mystery Book Club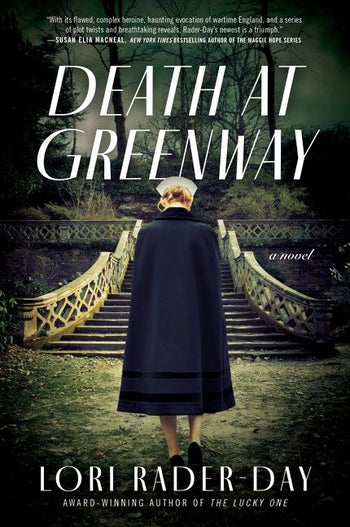 Our Mystery Book Club meets once a month and is led by librarian Sharon Nagel. This month we're reading Death at Greenway by Lori Rader-Day.

This meeting will be a hybrid meeting, both on Zoom and in person at the library. Click here to join Zoom:
Join Zoom Meeting
https://us02web.zoom.us/j/89090700104?pwd=L0dobVU1M0JpdGNDME5EdzNYSWdlUT09
Meeting ID: 890 9070 0104
Passcode: J8yJp03W
Dial by your location
+1 312 626 6799 US (Chicago)
Meeting ID: 890 9070 0104
Passcode: 57662226
Find your local number: https://us02web.zoom.us/u/kdEIb3aV8w
---
"Bridey Kelly has come to Greenway House-the beloved holiday home of Agatha Christie-in disgrace. A terrible mistake at St. Prisca's Hospital in London has led to her dismissal as a nurse trainee, and her only chance for redemption is a position in the countryside caring for children evacuated to safety from the Blitz. Greenway is a beautiful home full of riddles: wondrous curios not to be touched, restrictions on rooms not to be entered, and a generous library, filled with books about murder. The biggest mystery might be the other nurse, Gigi, who is like no one Bridey has ever met. Chasing ten young children through the winding paths of the estate grounds might have soothed Bridey's anxieties and grief-if Greenway were not situated so near the English Channel and the rising aggressions of the war. When a body washes ashore near the estate, Bridey is horrified to realize this is not a victim of war, but of a brutal killing. As the local villagers look among themselves, Bridey and Gigi discover they each harbor dangerous secrets about what has led them to Greenway. With a mystery writer's home as their unsettling backdrop, the young women must unravel the truth before their safe haven becomes a place of death."-- Provided by publisher.