About Us
Current HOURS as of 7/6/2020:
Appointments are no longer required for browsing. Just stop by during our browsing hours. We still required appointments to use the computer so call us at 414-964-4380 to schedule. Schedule a curbside appointment:
https://calendly.com/wfblibrary/curbside-pickup-schedule?month=2020-06
For computers, please call the library at 414-964-4380 to schedule an appointment.
Hours
Curbside Pickup (by appointment)
Monday, Wednesday, Saturday- 9:30AM-2PM
Tuesday, Thursday- 2:30-7PM

Open (no appointment needed) and Library Computers (by appointment)
Monday, Wednesday- 2:30-7PM
Tuesday, Thursday, Friday- 9:30AM-2PM
---
LOCATION:
We are located at:
5420 North Marlborough Drive
Whitefish Bay, WI 53217
(414)964-4380
reference@wfblibrary.org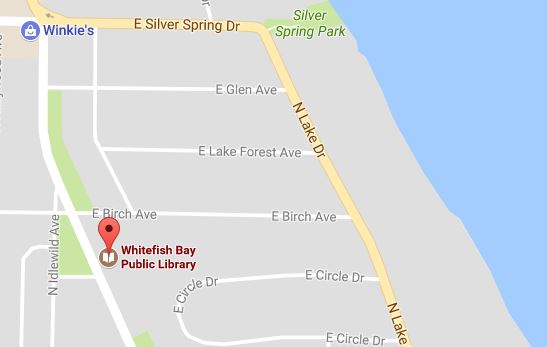 ---
2020 Holiday Closings
New Year's Day- January 1, 2020
Spring Break Friday- April 10, 2020
Easter Sunday- April 12, 2020
Memorial Day Weekend- May 24, 2020
Memorial Day- May 25, 2020
Independence Day- July 4, 2020
Labor Day- September 7, 2020
Staff Development Day- October 12, 2020
Thanksgiving- November 26, 2020
Friday after Thanksgiving- November 27, 2020
Christmas Eve - December 24, 2020
Christmas Day - December 25, 2020
New Year's Eve - December 31, 2020