FAQ
How do I sign up for a library card?
Stop by the library to sign up for a library card. Our friendly staff will have you borrowing materials in no time! Milwaukee County residents just need a photo ID and documentation with a current address. For patrons under the age of 16, the signature of a parent or legal guardian is required.
Where is the library located?
We are located at 5420 N. Marlborough Avenue in Whitefish Bay, WI.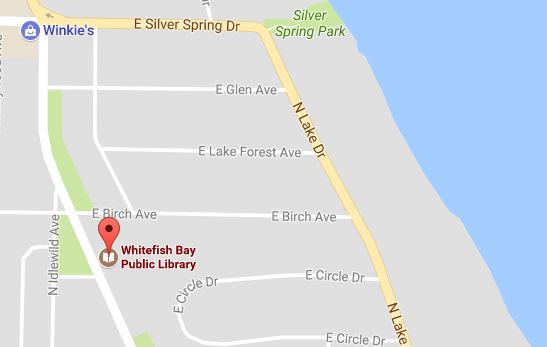 How do I place an item on hold?
Items can be requested from any Milwaukee County public library. The easiest way to request items is to first login using your barcode and PIN. From your account page, enter in your search and locate the items you wish to request.
Any item within the library catalog can be requested whenever you see the Request link displayed from the full record display screens. If you are logged in, you will need to choose a pickup location and click Submit. The system will confirm your request has been successful and you can return to searching for other items.
How do I renew items I have checked out?
We'd be happy to help you renew your items. Call us or stop by the library to renew. You can also renew items online here. Then select the items you'd like to renew, can click "Renew Selected Items."
You can also renew items through text messaging, To read more about this service and signup, visit here.
What's my PIN?
Do you have WIFI?
The library has wireless internet available throughout the building. The network name is "WB-Public" and is password protected. The password can be found at all of the service desks.
How do I rent space for an event at the library?
The library has a space that is available to rent for birthday parties, baby showers, business meetings, or anything other event. The capacity for seated events is 125. You can read more about the space and see availability here.
Can I print from my own computer, tablet or smartphone?
You can print from home, on the go, or from a wireless device in the library with ePRINTit. You do not need to have a library card in order to print. Full instructions on how to print are here.
Does the library offer test proctoring?
We offer test proctoring services for no fee. Exams must be scheduled at least 5 days in advance. To set up a proctored exam, email s.lenski@wfblibrary.org.
Does the library have tax forms?
The library does not carry tax forms. However you may print any forms that you need. Costs for printing is 15 cents a page.
Does the library offer any free tax help?
The library will be hosting AARP to help with taxes on Wednesdays from 10am - 2:30pm beginning on February 5, 2020 and running through April 15, 2020. More information coming soon.

Visit https://sites.google.com/view/milwaukeetaxaide/home for more information.