Blog
Mystery Book Club
by Sharon Nagel Posted Jun 1, 2023
Back in 2019, when I was in library school and working at the Whitefish Bay Public Library as an intern, my boss put me in charge of hosting a monthly mystery book club. I had been in book clubs for decades, but I had never organized one, so this was a new challenge.
keep reading
Poetry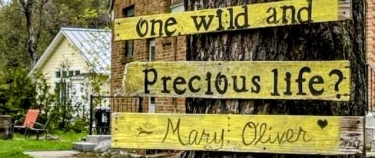 by Heidi Fallone Posted May 16, 2023
The 811 area of non-fiction, where the poetry books are shelved, is a peaceful place. This seems fitting to me as I seek out poetry when I feel unsettled and want to read words that will help ground me and offer me a new way of thinking about and looking at things. As poetry critic Stephen Burt said in his 2013 TED talk Why People Need Poetry, "Poems can help you say, help you show how you're feeling, but they can also introduce you to feelings, [to] ways of being in the world, [to] people, very much unlike you, maybe even people from long, long ago."
keep reading
Lucky Day Collection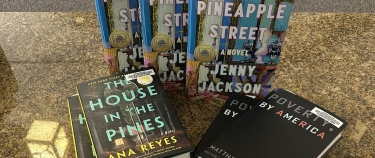 by Sharon Nagel Posted May 1, 2023
If you are a patron of the Whitefish Bay Public Library, you are probably familiar with our HOT READS. These are new, in-demand titles that cannot be put on hold and check out for 14 days. This year, Friends of the Whitefish Bay Public Library have generously offered to buy these books for the library. This will mean that we will be able to purchase more of the popular titles that our patrons are interested in. We are also changing the name from HOT READS to LUCKY DAY. They will be located in the same place, in the bookcase near the adult reference desk where the new books are.
keep reading
Edible Book Festival Recap 2023
by Scott Lenski Posted Apr 23, 2023
The library hosted our Annual Edible Book Festival in April. An edible book is an item that looks like a book, puns on a title, refers to a character, or just has something to do with books. The only rule is that entries must be made from edible ingredients. During the festival, all who attend get to vote on their favorite edible books. Congratulations to all the winners and thanks to everyone that participated. We had a lot of amazing entries so thank you and we hope to see you back in 2024!
keep reading