Our Events · Virtual Tea Time Book Club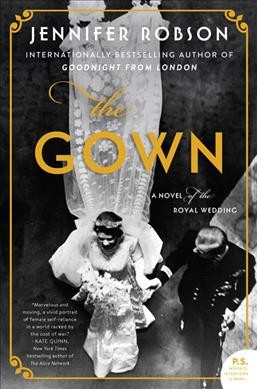 Our Tea Time Book Club meets once a month and is led by Library Director Nyama Reed. This month we're reading Gown: A Novel of the Royal Wedding by Jennifer Robson.
This event will take place online. To join the discussion, visit- https://zoom.us/j/95990109019
"London, 1947: Besieged by the harshest winter in living memory, burdened by onerous shortages and rationing, the people of postwar Britain are enduring lives of quiet desperation in spite of their nation's recent victory. Among them are Ann Hughes and Miriam Dassin, embroiderers in the famed Mayfair fashion house of Norman Hartnell. Together they forge an unlikely friendship, but their bond, along with their nascent hopes for a brighter future, are tested when they are chosen for a once-in-a-lifetime honor: taking part in the creation of Princess Elizabeth's wedding gown. Toronto, 2011: More than half a century later, Heather Mackenzie seeks to unravel the mystery of a set of embroidered flowers, a legacy from her late grandmother. How did her beloved Nan, a woman who never spoke of her old life in Britain, come to possess the priceless embroideries, so similar to the exquisite motifs that embellished the stunning gown worn by Queen Elizabeth II at her wedding more than sixty years before? And what was her Nan's connection to the celebrated textile artist Miriam Dassin? The Gown takes us inside the workrooms where one of the most famous wedding gowns in history was created, balancing behind-the-scenes details with a sweeping portrait of a society left reeling by the calamitous costs of victory. Its heroines, whose points of view alternate and intersect throughout its pages, are connected by threads of loss and love, suffering and survival, regret and redemption"-- Provided by publisher.