Our Events · Virtual Book Talk: When Milwaukee Went to War
Join us on Zoom for a virtual book talk with local author and historian Tom Fehring.
https://zoom.us/j/96026876016?pwd=L2tmRUdDQWFCWXVjU0pobE9Ec21Jdz09
Meeting ID: 960 2687 6016
Passcode: 311229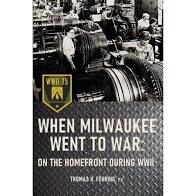 Phone for audio- 13126266799 # US (Chicago)
About the Book: When Milwaukee Went to War brings to life the incredible stories behind the many men and women—from all walks of life—who stepped up and proudly worked toward a common goal. Their hard work and sacrifices, along with the investment and innovation by Milwaukee industry led to Victory."Every combat division, every naval task force, every squadron of fighting planes is dependent for its equipment and ammunition and fuel and food . . . on the American people in civilian clothes in the offices and in the factories and on the farms at home." - Franklin D. Roosevelt, 1943 Milwaukee was one of the principal industrial centers of the United States that produced munitions for the war effort. Area companies also produced goods for the troops engaged in the war. The factory workers who helped build the equipment and supplies were a central part of the war effort. They can be credited for helping to achieve victory in Europe and victory over Japan. This book is issued in commemoration of their work and sacrifices.

About the author: I am an engineer by training and practice, having worked for thirty-five years at "keeping the lights on" at Wisconsin Energy Corporation and its various subsidiaries. Earlier in my career, I also worked at Falk Corporation, Briggs & Stratton and Ford Motor Company.

I was born and grew up in Milwaukee in the shadows of the A.O. Smith factory near 35th and Capitol Drive. I attended Marquette University and attained bachelor and master's degrees in Mechanical Engineering. Along the way, I married and my wife Suzan and I raised three children.

I consider myself an accidental historian. I didn't really enjoy history in school because of the rote memorization of events and dates that was generally required. But early in my engineering career one of my supervisors helped to "plant the seed" that led to my fascination with industrial history. He encouraged me to give back to my profession by volunteering. Forty years later, industrial archeology and historic preservation continues to be an important parts of my life.

My foray into writing started after my retirement. I have published three books on the history of the Village of Whitefish Bay, and two books about Milwaukee's industrial heritage.

My hope is that these books will help the preserve the history of the Milwaukee area.