Our Events · Whitefish Bay TALKS with Steven Wallace
Register here​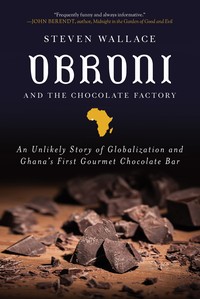 Obroni and the Chocolate Factory: An Unlikely Story of Globalization and Ghana's First Gourmet Chocolate Bar is a David vs. Goliath tale of entrepreneurial daring, corporate intrigue, an spirited argument for globalism done right, and a peek behind the secretive world of international cocoa and chocolate production.

The book is a rollicking love letter to both Ghana and the world of business — and everybody is covered in chocolate.

Wallace founded the Omanhene Cocoa Bean Company in 1991; the company pioneered the marketing and export of single-bean, bean-to-bar chocolate and cocoa products manufactured entirely on the African continent. Omanhene produces its products in Ghana, West Africa, the world's premier cocoa-growing country. Omanhene's world headquarters are located on the south side of Milwaukee.

Wallace will talk about starting a business from scratch, share secrets of the chocolate business and discuss the craft of writing a book and getting it published.

Steven Wallace:
Wallace first came to the Brong-Ahafo region of Ghana as a high school foreign exchange student during the summer of 1978. (He lived with a traditional Ghanaian family, which consisted of a host father and his three wives and 21 children.) He founded Omanhene at the age of 29.

Wallace often speaks on economic development, cross-cultural issues and the challenges of starting a gourmet food business in Africa. He delivered a TEDx talk in Accra, was a guest panelist at the US State Department sponsored African Growth and Opportunity Act Forum in Accra, Ghana and has been invited to present programs at many educational institutions including Brown, Princeton, The University of Chicago Graduate School of Business, The University of Michigan Graduate School of Business and Northwestern University.