Take a Class with Gale Courses

Gale Courses are online instructor-led courses that run for six weeks. New sessions begin every month and can help you prepare for that next job interview, get you ready for that big test or beef up your skills. Courses are available in beginning through advanced levels for certain courses such as Microsoft Excel. There are over 100 courses to choose from including:
Microsoft Office products including Word, Excel, PowerPoint, Access, and more
Six Sigma preparation
Grant writing, creative writing, business writing, and technical writing
Graphic design, web design, and digital photography
Test preparation for ACT, SAT, Praxis, LSAT and GRE
Tools for teachers
Browse classes available. Once you find one to your liking, choose enroll now to get started.
---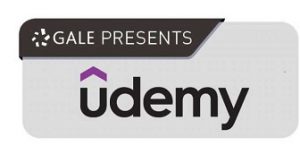 Udemy Business offers 10,000+ online video courses. Each course consists of on-demand video with support articles. Prior to starting, there is a list of topics covered and in most cases, you are able to preview the course before enrolling. Learners will receive a certificate of completion when the video course is finished.
NOTE: You will need a Google or Microsoft account to sign in to Udemy. If you don't already have one, Google and Microsoft accounts are free. Learn more about permissions requested by Gale from these services. You must be 13 years or older. Use the link above to access this resource on a desktop computer. Udemy Business is also available as an app (see below); we highly recommend setting up your account on a desktop computer first, and then set up the app to view your video courses on your mobile device.
Video Course Categories
Cloud Computing
Continuing Education Units
Data Science
Design
Development
Finance & Accounting
IT Operations
Leadership & Management
Marketing
Office Productivity
Personal Development (Arts & Creativity, Entrepreneurship, Health & Fitness, Hobbies, Language Learning, Life Skills, Personal Growth and Stress Management)
Project Management & Operations
Sales
Workplace & Human Resources
View instructions for the Udemy for Business App here.