Blog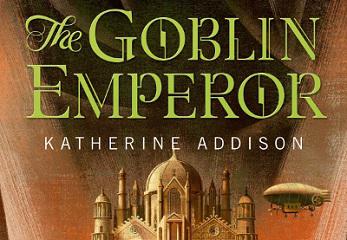 Feel Good Fantasy and Science Fiction
on May 25, 2017
Tags: Adult (82), fantasy (5), science fiction (5)
This post was written by Krista Hutley, Administrative & Adult Services Librarian.

Dystopian and post-apocalyptic fiction are popular these days (The Handmaid's Tale, anyone?), but sometimes we need an escape from the doom and gloom. For weary souls, here are some tales that offer something beyond darkness. These stories aren't conflict-free (that would make for a boring novel!) but they ooze warmth, humor, compassion, and above all, optimism. These character-driven stories are all about building bridges, not burning them.
The Long Way to a Small, Angry Planet by Becky Chambers
The crew of the Wayfarer make a small living building wormholes to lessen the distances in interstellar travel. They are a tight-knit group, even if they don't all like each other all the time, made up of humans and various alien species. Human Rosemary Harper signs on just as the Wayfarer has taken a big new contract with the galactic government, hired to travel deep into uncharted space and build a wormhole for a once-hostile race that now wants peace—supposedly. While the overall story follows this dangerous path, this is really the story of the ship's lively and lovable crew as they go about their daily, albeit complicated, lives.
Arabella of Mars by David Levine
This Jules Verne-inspired novel is an exuberant throwback to space adventure tales of old. Arabella Ashby, at 17, is sent from her Martian plantation home (against her will, she might add) for Earth London to learn to be a lady, withstanding frilly dresses and prim conversations. Then she uncovers a plot to control her family's fortune by murdering her brother, still on Mars. No one could accuse Arabella of inaction: she at once disguises herself as a boy and joins the crew of a Mars Trading Company ship. To return to Mars and save her brother, she endures grueling labor, storms, privateers, mutiny, and an uncomfortable attraction to the confident Captain Singh who commands the ship.
The Warrior's Apprentice by Lois McMaster Bujold
Bujold's Vorkosigan interplanetary adventure series is her most well-known work, and this is an excellent entry point into the long-running and much-loved series. Miles Vorkosigan, at 17, only wishes to prove himself to his legendary father and grandfather, but he's hampered by his physical limitations (short and sickly, with brittle bones that keep breaking). After he washes out of military academy, Miles travels to Beta Colony, where a simple matter of intervening in a pilot's arrest winds up with Miles inadvertently becoming commander of his own mercenary fleet. Oops! Charged with delivering a weapons shipment to a warzone, Miles must put his genius brain into overdrive to keep himself one step ahead of catastrophic failure.
Written in Red by Anne Bishopwrit
This first in the addictive urban fantasy series The Others is set in an alternate present, where humans and terra indigene, or Others (nonhumans who can shape-shift between human and animal forms), co-exist in an uneasy peace. The series follows Meg Corbyn, a blood prophet who can see the future when her skin is cut, after she escapes enslavement and hides in at the Lakeside Courtyard, a business district owned and operated by Others. She gets a job as their Human Liaison, where she interacts with the people in the outside world that do business with the shapeshifters. As she befriends a motley assortment of shapeshifters, including leader Simon Wolfgard, and slowly begins to feel safe again, that's when her "owners" come looking for her.

The Goblin Emperor by Katherine Addison
It's no secret that this is one of my favorite novels. I've been recommending it and writing about it since 2014! This absorbing high fantasy novel is about Maia, a half-goblin, half-elf who ascends the throne of a fractured kingdom after his family is murdered. Despite being naïve and untrained, Maia becomes a true bridge-builder in a labyrinthine and cold empire, who wins over his people with fairness, empathy, and kindness. Sure, dark and violent things do happen in this book, but overall this is a tale about how to be a true leader in dark times.
---
Back to blogs