Blog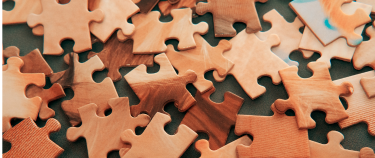 National Game and Puzzle week
by Eva Hong on November 13, 2023
Tags: Adult (87), kids (54), game (3)
Did you know that the week of November 20-26 is National Game and Puzzle Week? Well, it is! Many folks have been pleasantly surprised, when they have wandered into the adult wing near the reference desk and seen our assortment of games and puzzles. Some having wandered further toward the north end of the adult wing to see an even larger selection of puzzles on the lower lying shelves. We keep a puzzle to be worked on collectively in the north end of the Adult wing, as well. All of the puzzles and games are available to be checked out. Board games are available for check out for one week. Fortunately, for those who check out a 1500- piece puzzle, check out is 3 weeks. Both can be renewed up to 2 times.
I grew up in a family that loved playing games. This love of games no doubt came from my mother's side of the family. Having 11 children and coming from large families themselves, my grandparents were quite keen on games to keep the children happy and together! In my immediate family, when I find myself feeling like quality time is lacking, sometimes getting on the floor together and playing a board game is just what the doctor (in this case a mental health professional) ordered.
Some benefits of engaging with games and puzzles are:
-puzzles can improve memory skills and are very good for the brain by reinforcing neural connections
-increase hand eye coordination, stress reduction, and focus
-games can similarly be good for the brain strengthening reasoning skills
-playing together elevates our moods and allows for creative, playful communication
With the holiday season quickly approaching, consider browsing our selection for time together and maybe a puzzle for some much needed decompression. Here is a taste of some of the games and puzzles available for check out:
Floor puzzles for children ages 3 and up
Milwaukee Art Museum-a photographic 500-piece puzzle
Colorful Vintage Men's Ties 1000-piece puzzle
Nestle Classic Candy Bar 1000-piece puzzle
Classic Board games such as Risk, Scattergories, Apples to Apples
No Stress Chess
Scrabble for Booklovers
Check out our full list of board games on our website.
---
Back to blogs