Blog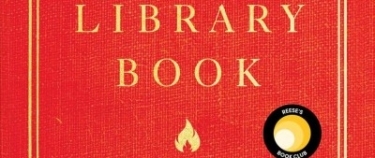 The Library Book
by Sharon Nagel on July 26, 2019
Tags: Adult (78), nonfiction (35)
The Library Book by Susan Orlean came out last year and is primarily about a terrible fire that destroyed a large part of the Los Angeles Central Library on April 28, 1986. If you lived in another part of the country at that time, you might not have not heard about it as the news was eclipsed by Chernobyl. Many papers did not mention the fire until a few days later, and then if they did not on the front page.
As fascinating and awful as the account of the fire was, Orlean also writes about her own experiences with libraries growing up in Shaker Heights, and the structure of the Los Angeles Library System. I thought that the Milwaukee County Federated Library System (MCFLS) was large with its 28 branches, but Los Angeles makes it seem small. The Los Angeles Central Library is the main hub with its own shipping department. "The shipping department at Central moves thirty-two thousand books—the equivalent of an entire branch library—around the city of Los Angeles five days a week" (p. 61). The city has seventy-two branches, and all of the requests for books and other library materials pass through Central.
I am trying to read as much as I can for pleasure before the fall semester begins. Then I will be inundated with academic reading. Here are a few titles that I have enjoyed recently:
The Wedding Party by Jasmine Guillory. This is a fun romantic read about Maddie and Theo who share the same best friend but hate each other.
Exit West by Mohsin Hamid. This is the story of two young people, Nadia and Saeed, who meet while their country is on the brink of civil war.
The Girl in the Rearview Mirror by Kelsey Rae Dimberg. In this thriller by a Milwaukee author, a young nanny is dazzled by her employers' glamorous life before a mysterious stranger draws her into a menacing web of secrets.
---
Back to blogs