Blog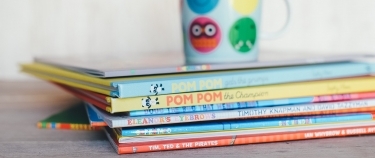 What in the World is Happening with the Picture Books?
by Valerie Morris on September 1, 2018
Tags: kids (48), picture books (23)
If you have visited the Youth Services department recently, you have probably noticed that your favorite picture books are not where they used to be; there are a lot of empty shelves; and there are new colored labels. Youth Services staff is reorganizing the picture books by subjects or categories instead of by the author's last name. The collection is under construction!

This is how the new system will work. Each picture book in our collection will be placed into one of fourteen main categories represented by a letter of the alphabet and a corresponding color label on the spine of the books. Within the main categories, books will then be placed within a subcategory. For example, a picture book titled "Trucks Galore" will be placed in the main category F for machines with a purple label and a subcategory of TRUC (trucks).

You may ask us "Why are you doing this?" Well, the youth services department believes that reorganizing the picture books in this way will make it easier for our patrons to locate the books they want. We often get the question "where are the books on trucks?" Now, all of those transportation books your kids love will be shelved in one place! The same will be true for books about animals, princesses, dinosaurs, weather, and gardening. This will make the picture books more browse-able for our patrons. You may even discover some "new to you" books in the collection.

You may also ask "are we the first library to do this?" No, we are not the first public library to do this. Several libraries, big and small, around the state have adopted a similar organizational system, like Madison and LaCrosse. And, yes, we will be the first library in Milwaukee County to do this! We are very excited to have our picture book collection reorganized! Visit the library to see our progress and if you have any questions just ask us.
FYI. Here is a chart of the organization of the picture books.
| Letter | Main Category | Color |
| --- | --- | --- |
| A | Concepts (counting, ABC, shapes, colors) | red |
| B | Favorites (characters and authors) | light blue |
| C | Awards (Caldecott, Coretta Scott King, Pura Belpre) | yellow |
| D | Animals (zoo, farm, peets, birds...) | dark orange |
| E | Natural sciences and math (seasons, weather, forests...) | green |
| F | Machines (trucks, cars, airplanes, buses, robots...) | dark purple |
| G | Stories (bedtime, vacations, pirates, friends, princesses..) | orange |
| H | Activities (sports, games, dancing, music, art...) | light pink |
| I | Celebrations (New Year, Ramadan, Christmas, Passover...) | aqua |
| J | Ourselves (new baby, loss, visiting the doctor, feelings..) | blue |
| K | Community (helpers, society...) | light blue |
| L | People, places, events (historical, biography) | gray |
| M | Rhymes and songs (nursery rhymes) | Fluorescent green |
| N | Traditional tales (fables, folktales, fairy tales) | Fluorescent pink |
---
Back to blogs