Blog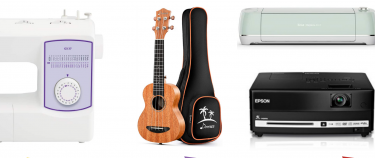 Take and Tinker Collection
by Scott Lenski on August 19, 2021
Tags: Friends of the Whitefish Bay Library (6), game (2), kit (1)
Excite your mind, try out a hobby, learn a new skill, or just have fun with our new Take and Tinker collection! This is a collection of tools, games, and more made up of items that you wouldn't expect to find in a library. Take and Tinker is generously funded by Friends of the Whitefish Bay Public Library. Help Friends out by joining.
Browse the Take and Tinker collection and reserve an item with your library card. Items have a 7-day checkout (with a 3-day grace) and can be renewed up to 2 times if no one is waiting. Late fees are $.50 per day. Items can only be picked up at the Whitefish Bay Public Library. Items must be picked up AND returned to the Adult Services Desk. DO NOT place items in the bookdrop.
Check out the different items in Take and Tinker. Place a hold on items through CountyCat:
Cricut Air Explorer 2- A DIY Cutting Machine that can make custom stickers, personalized home decor, home-made gifts and party favors, unique greeting cards, custom designed apparel, and more.
Brother Sewing Machine- Mend or sew a small project or checkout a sewing book to try something more challenging.
Epson Projector/DVD Player- Host an outdoor movie night or watch the big game in your backyard or at your block party. Also check out our Portable Projector Screen.
Portable DVD Player- Watch a movie in the car or on the go.
Promaker Button Machine- Make your very own buttons! Great for block parties or birthday parties.
Ukulele Beginner Kit- Strum a song and sing along as you learn to play a ukulele.
Various Yard Games including Giant Jenga, Kubb (Swedish yard game that is a cross between bowling and horseshoes) and Yard Dice
We also have a collection of board games that can now be requested through CountyCat. Browse all our games here.
---
Back to blogs