Blog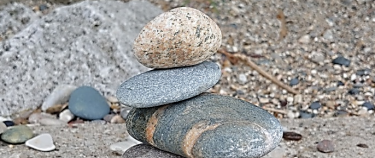 Things to Do Around Whitefish Bay: Part 2
by Thomas H. Fehring on August 5, 2020
Tags: family (3)
Here is another part in our series of posts by guest author and historian Thomas Fehring. In this week's post he highlights another fun outdoor family activity.
The pandemic lock-down is getting old. We're five months into it. While some things are opening up, life is far from normal. And, for those of us older than a 'certain age,' even when places have opened an abundance of caution is likely to keep us from returning to normal pursuits.
As this 'safer at home and OK outdoors' environment continues, it can be helpful to find new things to do outside. Walking or otherwise traveling through the same routes is getting more than a bit boring. Therefore, this series of articles offers some recreational ideas that you might not have considered—things that you can do safely in Whitefish Bay and which might prove to be fun ways to enjoy the outdoors.
Of course, even though most of these pursuits are outdoor activities, a measure of social distancing is still in order if you encounter folks that are not within your safe 'social circles.'
Visit Buckley/Big Bay Park and Build a Carin
My previous suggestions in this blog post all involved Estabrook Park. Even though the Village of Whitefish Bay extends into Estabrook, the vast majority of the park is outside the Village. This suggestion is squarely in the Village.
We're called Whitefish Bay for a reason—and if you haven't visited Big Bay Park recently, this is a great time of the year to do so. As they say, "it's cooler by the lake," which can be a real advantage in the hot summer months.
Big Bay Park is actually administered by the Milwaukee County Parks staff, but it is immediately adjacent to Whitefish Bay's Buckley Park. The two parks are essentially 'joined at the hip,' so-to-speak, and it is difficult to find the actual boundary between the two. Generally, Buckley Park is at the southern end of the combined park and most of the switchback asphalt walkway is maintained by the Village, whereas the stairs and areas north of that are maintained by the County.
There used to be a beach in Big Bay Park, but the high lake level has essentially eliminated it. And, of course, there are no lifeguards assigned. So, if it is swimming you are after, head into Shorewood and visit Atwater Park.
But, Big Bay/Buckley park offers its own amenities, one of which involves rocks. They cover much of the shoreline. If the water is calm, you can try your hand out at skipping stones—which is sure to impress your kids, or maybe not.
But the real suggestion here is to build your own rock cairn. You might not be familiar with that word, but you will certainly be familiar with some images.
Rock cairns are human-made stacks, mounds or piles of rocks. They take different forms, and have been built by cultures around the world for eons. Historically they have served as monuments, burial sites, navigational aids (by land or sea), or to mark ceremonial grounds. More recently, however, they have become a temporary form of art.
Here is my not-so-artful attempt.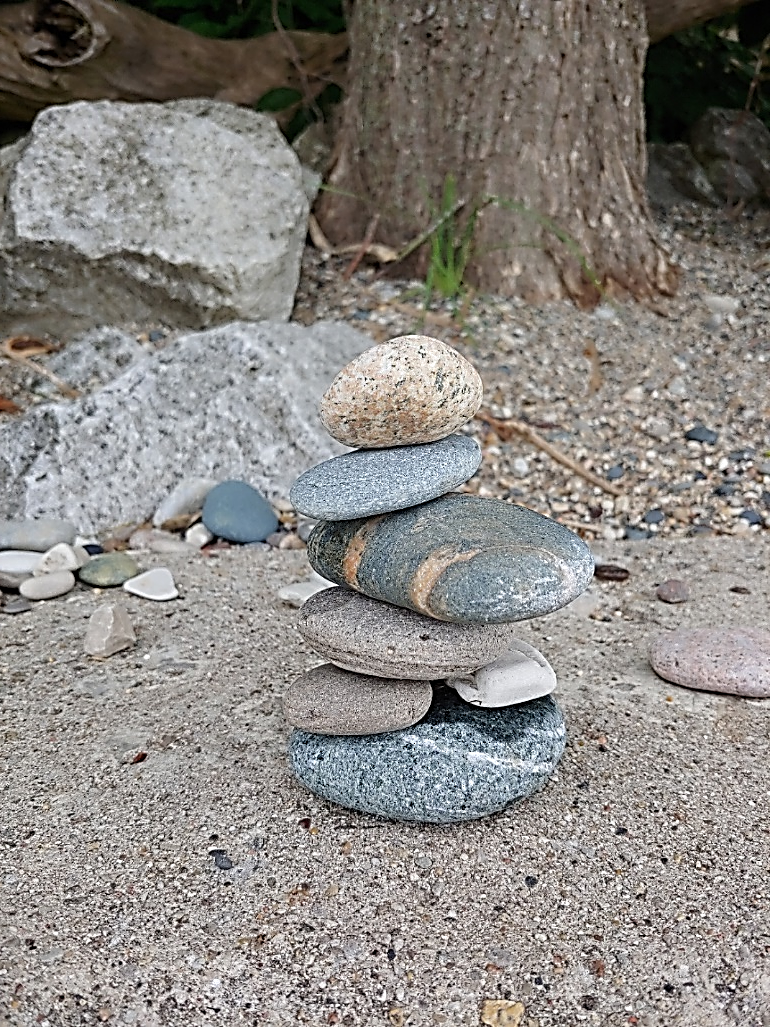 Yeah, not so artistic! I'm certain you can do better. Numerous examples are available on the net—just a few of which are shown below for illustration.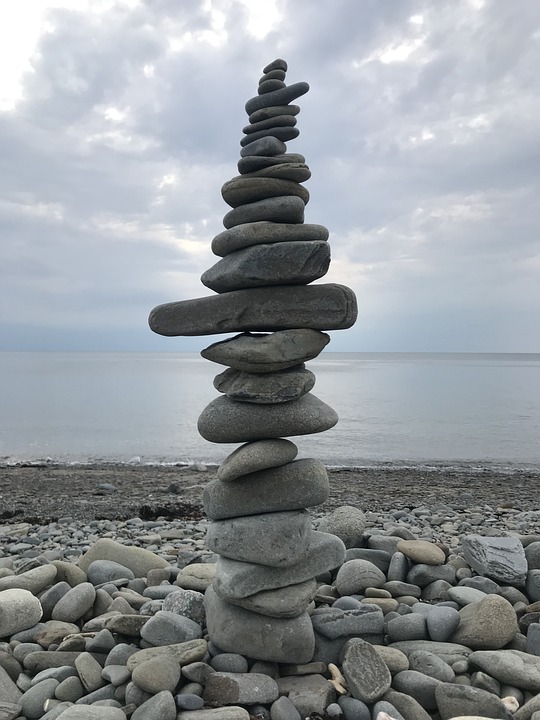 Part of the trick is to balance stones in such a way that looks improbable, like the illustration here.
Or construct a 'Bates' cairn, like this one in Acadia National Park, which is used as a navigational marker for its trails: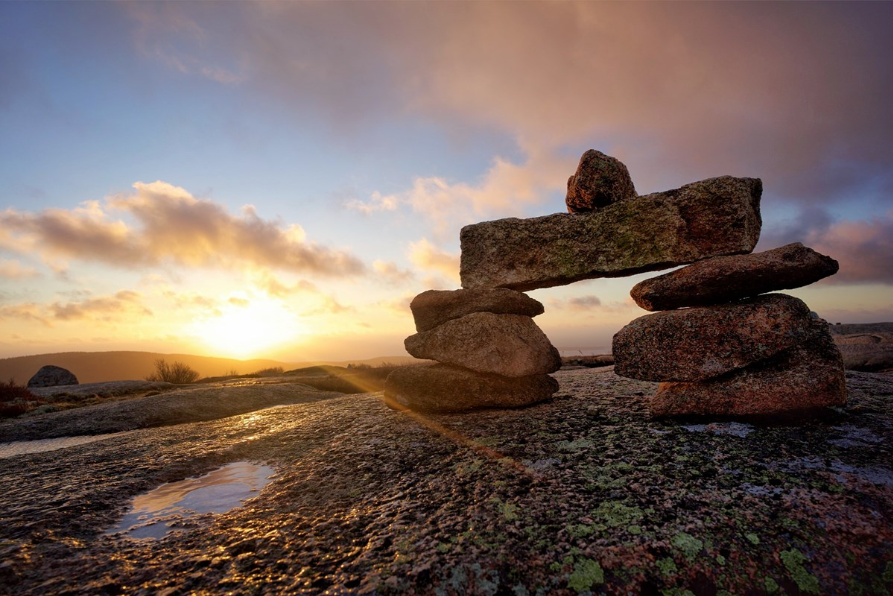 Make your cairn and take a picture, and then send it to the Whitefish Bay Public Library: reference@wfblibrary.org. If we get a few pictures we can post a few of them to our website and Facebook page!
You've got to figure that many of those small rocks are as old as the dinosaurs, or at least older than I am. So, this will be the most fun those rocks will have had in thousands of years!
Just a few precautions. Lake Michigan can be enticing, but also very dangerous. Please be careful, especially if you are there with young kids. Also, those rocks form part of the protection for the shoreline. Please don't remove them—skipping them into the lake is fine, because the wave action will keep them around. Your cairn is meant to be temporary art for you and others to enjoy and then perhaps use to create other shapes. Please don't glue them in place.
And when you are done playing, set up your hammock and enjoy the 'cooler near the lake' breezes. Relaxing in Buckley Park is an ideal way to spend the rest of the day!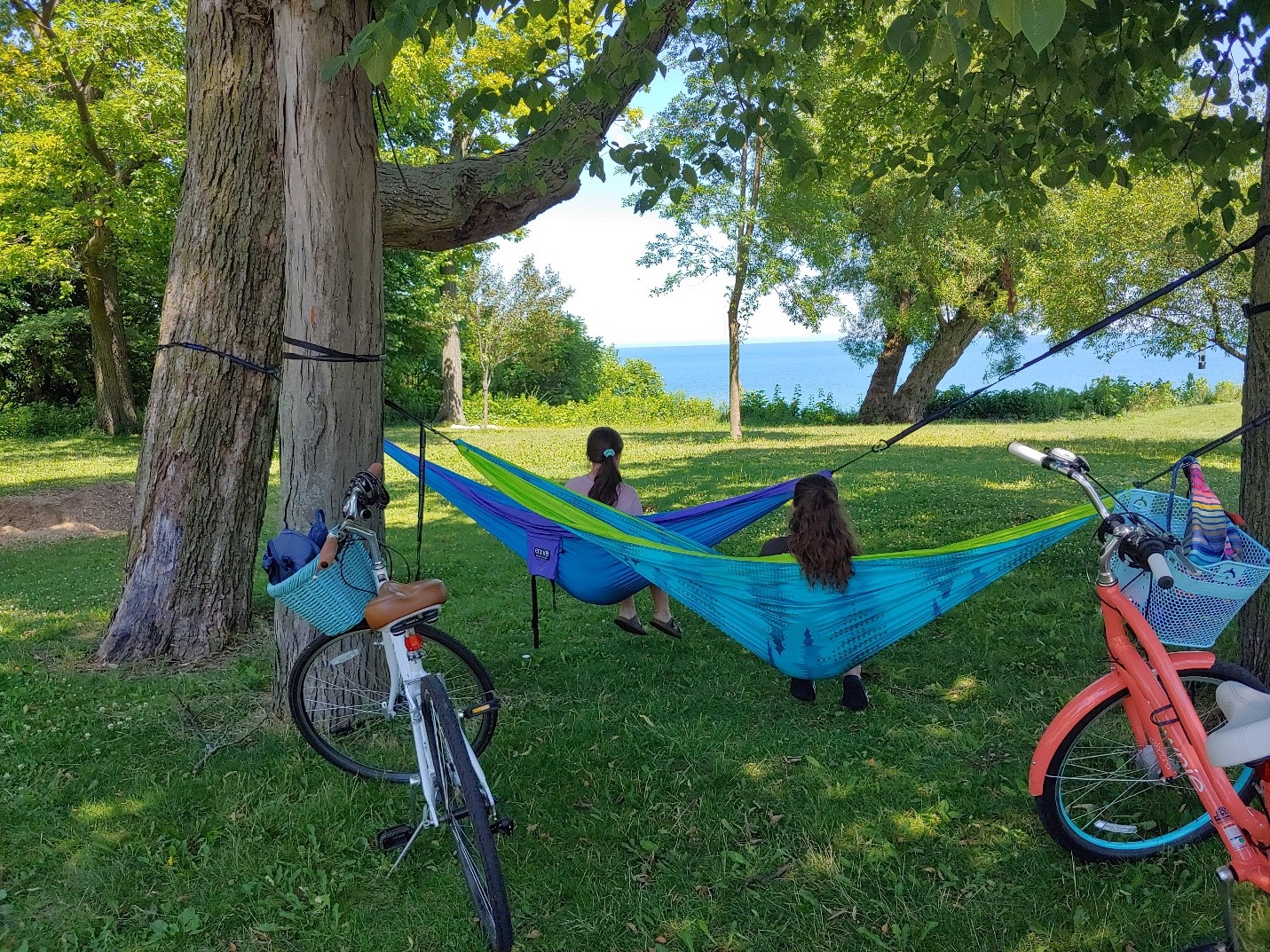 ---
Back to blogs